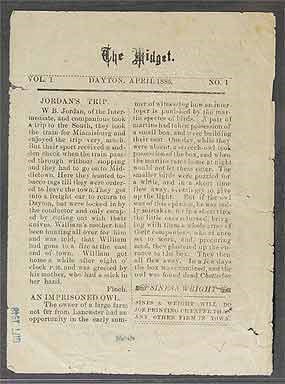 In 1884 Orville and his friend Ed Sines found that they both had an interest in printing. Ed owned a small handpress, and he and Orville created many various projects. Their partnership resulted in the formation of Sines & Wright Printers. The partnership worked on small print jobs.
In 1886, Orville and Ed produced a four page newspaper for their eighth grade classmates called The Midget. Within the paper, the young publishers described their endeavor as, "a journal devoted to the interests of the Intermediate School." Milton Wright prohibited Sines & Wright from distributing the paper when he discovered that the third page only consisted of two ornate printings of the firm's name. Orville's father felt this was unprofessional and slighted the paper's patrons. After abandoning the idea of publishing a newspaper, Orville and Ed continued with job printing.
One client of the young proprietors of Sines & Wright paid the boys with ears of popcorn. Ed felt that they should consume the profits, while Orville felt that they should sell the popcorn for a profit and purchase more type. The two resolved the dilemma with Orville buying out Ed's share of the business since Orville owned the press and the majority of the type. The two remained friends throughout their lives, and Ed continued to work as an employee at the printing business for wages and commissions.