Orville Wright's Life Story
August 19th, 1871 – January 30th, 1948

Aviator and inventor, Orville was born in Dayton, Ohio, to Milton and Susan Koerner Wright. He was the sixth of seven children born to the Wrights, five of whom survived infancy. Orville attended school in Iowa, Indiana, and Dayton, where future poet Paul Laurence Dunbar was part of his class at Central High School. However, Orville never graduated from high school, having not earned several credits required for a diploma. Having already decided to pursue a career as a printer, Orville was not worried about lacking a diploma; instead, he and Wilbur established a printing shop near their home in west Dayton.
Orville and Wilbur's shop printed advertising and news circulars for customers. From May of 1889 to August of 1890, they also edited and published two local newspapers, the West Side News and the Evening Item. The newspapers failed in the saturated Dayton market, but the printing shop fared well. It moved to larger quarters on the second floor of the new Hoover Block in 1890. It was there that the Wrights printed a short-lived paper for the local African American community, the Dayton Tattler, edited by Dunbar.
Though they maintained their print shop until 1899, when they sold their press and type, printing became an overly predictable business to Orville and Wilbur. In the spring of 1893, they responded to the bicycling craze sweeping the United States by opening a bicycle repair and sales shop. Business at the cycle shop did well, and it overtook the printing shop to become their primary source of income. While other companies produced most of the bicycles the Wrights sold, they also sold cycles made at their own shop. Few bicycles built by the Wrights exist today. The Wrights left the bicycle business in 1908.
Milton piqued the interests of Orville and Wilbur in 1878, when he gave them a toy helicopter after one of his trips to the west. The 1896 death of German aviation pioneer Otto Lilienthal in a glider crash, rekindled the brothers' latent interests in aviation. Drawing upon similarities between bicycling and flying, Orville and Wilbur began researching aerodynamics, propulsion, and control. Their research did not occur in a vacuum; they investigated the experiments of other aviation pioneers, writing to the Smithsonian Institution in Washington, D.C., for suggestions of relevant readings in 1899. The Wrights progressed from kite to glider research and, valuing privacy while requiring consistently high winds, moved their glider and powered craft testing to the remote sand dunes of Kitty Hawk, North Carolina. Research and development activities continued to take place at the cycle shop on West Third Street in Dayton. Through experimentation at the cycle shop using a small, homemade wind tunnel, the Wrights designed the airplane that made the first controlled, powered, sustained flight on December 17, 1903. Experimentation and flight testing over the next decade at Huffman Prairie, eight miles (13 km) east of Dayton, and at Kitty Hawk, resulted in the development of practical airplanes that could remain aloft for as long as fuel reserves permitted.
Orville and Wilbur were wary of competitors copying their designs while patents pended and did not fly between late 1905 and the spring of 1908. Orville returned to the air that spring to conduct airplane trials for the U.S. Army, while Wilbur ventured to France to conduct trials for potential French investors. The Wrights signed a contract with the U.S. Army stating that they would provide an airplane capable of flying for one hour at a speed of forty miles per hour (64 km/h) for $25,000 without performance incentives. While the trials at Fort Myer in Arlington, Virginia, were generally successful, one flight ended abruptly when Orville's plane crashed. The accident seriously injured Orville and killed his passenger, Lieutenant Thomas Selfridge. Orville's injuries, which included a broken thigh and broken pelvis, gave him pain for the remainder of his life. He and sister Katharine joined Wilbur in France after his injuries healed.
In 1909, the Wrights and several prominent industrialists created the Wright Company to market Wright airplanes. Wilbur became the company's first president, with Orville as one of two vice-presidents (Andrew Freedman being the other). Orville became president of the Wright Company upon Wilbur's death of typhoid fever in 1912. Orville also served as executor of his brother's estate.
In the years after Wilbur's death, Orville became an elder statesman among aviators. He, Katharine, and Milton moved into Hawthorn Hill, a mansion in the Dayton suburb of Oakwood, in 1914. Orville sold his interests in the Wright Company in 1915, remaining with it for a year as a consulting engineer. He also built a laboratory on Broadway in west Dayton, close to the last site of the Wrights' cycle shop and the family's former home at 7 Hawthorne Street. Orville worked on a variety of projects at this laboratory, designing devices to ease tasks around Hawthorn Hill. He also served on several aviation commissions and boards, including that of the National Advisory Committee on Aeronautics, the predecessor agency of the National Aeronautics and Space Administration. Orville, who never married, died in Dayton of a heart attack on January 30, 1948 and is buried at Woodland Cemetery.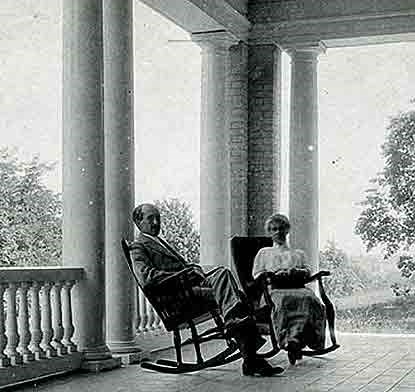 Last updated: February 5, 2018