Huffman Prairie Flying Field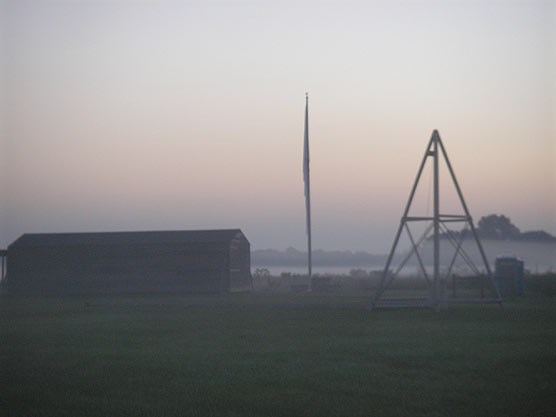 When the Wright brothers returned to Dayton, after their historic first flights at Kitty Hawk, North Carolina, on December 17, 1903, they looked for a suitable flying field closer to home. Dayton banker, Torrence Huffman allowed the brothers to use his pasture, which was located eight miles northeast of Dayton, rent-free. Here in 1904 and 1905, through a series of unique experiments, the Wright brothers mastered the principles of controlled, powered flight and developed the world's first practical airplane.
In 1904, the brothers made 105 flights, totaling 49 minutes in the air with their 1904 Wright Flyer II. With this flying machine, they made the first turn and the first circle in the air. They also employed a starting derrick for the first time and Wilbur set a new distance record.
When the brothers returned to the Huffman Prairie for the 1905 flying season, they brought along an improved machine, the 1905 Wright Flyer III. This flying machine, which evolved throughout 1905, could bank, turn circles, and make figure-eights. On October 5, 1905, Wilbur piloted the plane for a world record of over 24 miles in 39 minutes. About two weeks later, the brothers ended their experiments for 1905 feeling that they now had a practical airplane that they could market. In the 1905 flying season, the brothers stayed aloft for 262 minutes in just 50 flights.
The Wright brothers returned to Huffman Prairie Flying Field in 1910. The field was used by their new business, The Wright Company, as a testing ground, flying school, and home to their exhibition team. The Wright Company ceased use of the flying field in 1916.
Today, Huffman Prairie Flying Field is located on Wright-Patterson Air Force Base. It was designated a National Historic Landmark in 1990. You can visit the Huffman Prairie Flying Field Interpretive Center for more information about visiting the flying field or visit the Maps page to download a map to help guide you to the flying field.
Last updated: February 5, 2018