Plan A Field Trip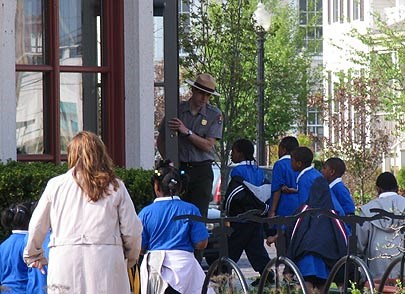 All school groups will need to make a reservation prior to visiting. This is to ensure that your class program does not overlap with another group's. It also allows us to provide your class the best experience possible. Field trips are a special time for you and your class so we want to ensure you are able to make the most of your visit.
The park offers two visitor centers to choose from for your group. All education programs are free. You are encouraged to check the park's hours of operation while planning your field trip.
To schedule a reservation for your school group, please email us.
Pre-field trip Discussions
To enhance and maximize your experience, we recommend you have the following discussion with your students prior to your field trip:
What is an Interpretive Center?

An Interpretive Center (or Visitor Center) is a place where original objects are collected, displayed and preserved so that the public can enjoy them and learn from them.
What will we see at the Wright-Dunbar Interpretive Center or the Huffman Prairie Flying Field Interpretive Center?

At the Wright-Dunbar Interpretive Center, you will learn about three prominent Daytonians: Wilbur Wright, Orville Wright, and Paul Laurence Dunbar, their accomplishments, and their legacies. At this location, visitors will walk through an original print shop and bicycle shop in which the Wright brothers worked. Interactive exhibits will explain the methods the Wright brothers used in order to invent the first airplane. Visitors can also listen to Dunbar poems, view family portraits, and investigate historical documents.

At the Huffman Prairie Flying Field Interpretive Center, visitors will continue learning about the Wright brothers' accomplishments in Dayton. Interactive exhibits and displays follow the trajectory of aviation history.

What can we do at these Interpretive Centers?

Be curious. This is a chance to discover and explore things you may not see anywhere else. Your students will be explorers and detectives, using their eyes, minds and imagination to learn about the past from our knowledgeable staff.

Where are the Interpretive Centers located?

Directions and maps to the Wright-Dunbar Interpretive Center and the Huffman Prairie Flying Field Interpretive Center can be found on the Directions page.
Last updated: May 21, 2019