Wright Brothers Teacher's Guide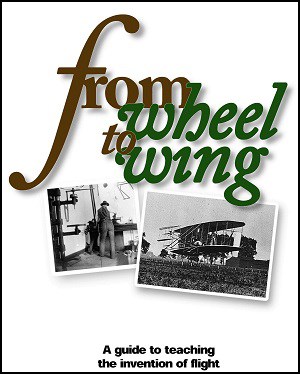 Wright Brothers Teacher's Guide
From Wheel to Wing
"If I were giving a young man advice as to how he might succeed in life, I would say to him, pick out a good father and mother, and begin life in Ohio."
- Wilbur Wright, January 10, 1910
This teacher's guide was developed in partnership by Dayton Aviation Heritage National Historical Park and the Dayton Daily News Newspapers In Education (NIE) program as an outreach to students. This information focuses on the Wright brothers' work in Dayton, Ohio, which led to the invention of free, controlled and sustained flight in a power-driven, heavier-than-air machine.
Included is background information on the Wright brothers with guided questions, teacher instructions and six student activity sheets. Supplemental materials included are a list of Web sites and books, an Aviation Trail brochure and Dayton area map.
Here you can download the full and complete teacher's guide. If you prefer to download individual lesson plans from our other teacher's guides, visit the Curriculum Materials page and then search or scroll for a lesson plan to download it.
Complete Wright Brothers Teacher's Guide - PDF File (4.5 MB)
Activities written by:
Vickie Hesler - Teacher, Neff Elementary Miamisburg City Schools
Bern Schwieterman - Teacher, Southdale Elementary Kettering City Schools
Developed and edited by:
Sandy Eichhorn Hilt - Educational Services Director Dayton Daily News/Springfield News-Sun
Ann Deines - National Park Service (ret.)
Last updated: February 6, 2018