Operating Hours & Seasons
HISTORIC JAMESTOWNE
The Historic Jamestowne Visitor Center is open for access to the Preservation Virginia Museum store 9:00 a.m. - 5:00 p.m. and for fee collection 9:00 a.m.- 4:30 p.m. The theater and exhibit areas are currently closed. The Historic Jamestowne ENTRANCE GATE opens 8:30 a.m. - 4:30 p.m. daily. Historic Jamestowne Gift Shop is open 9 a.m. - 5:00 p.m. daily.
Glasshouse is open 8:30 a.m. - 4:30 p.m.
YORKTOWN BATTLEFIELD
Yorktown Battlefield Visitor center is open for access to the Eastern National Bookstore which is open daily 9:00 a.m. - 5:00 p.m. Closed on Christmas Day and New Years Day. Exhibit area is open. Theater is currently closed. The Moore House, Nelson House, Cemetery Lodge, and Poor Potter are closed, but their grounds are open for visitation.

Park Grounds and tour roads are open and close each day at sunset.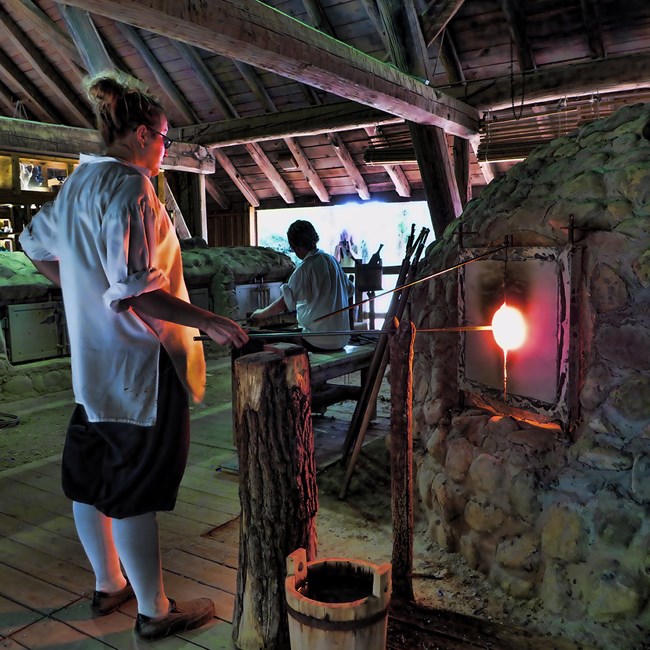 At "glass point" near Jamestown, the glass furnaces were re-discovered and excavated in 1948. Today, in a reconstructed, interpretive facility, glassblowing is again performed at Jamestown.


Last updated: July 24, 2021