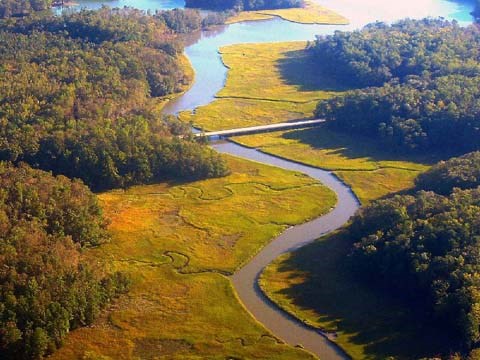 Important wetlands and marsh habitats exist along the York and James River and their tributaries. The freshwater-to-brackish wetlands found within the park provide rich habitats for many marine fishes and invertebrates. All are important nurseries for commercial and recreational sport fishery species. Since all waters in the park drain into the Chesapeake Bay, protection of these wetlands is critical to the health of the bay's ecosystem.
Plants at the edge of waterways are rooted in soil that is mostly underwater. Growing in the salt marshes of the York River, cordgrass is a vital component of the ecosystem; at Indian Field Creek, snails can be seen clinging to its stems. Cordgrass is adapted to survival in saltwater. It removes the water necessary for the snails' metabolism, and releasing salt which crystallizes along the stems. Mussels and crayfish scuttle in the tidal mud which glistens with microscopic diatoms, important components of the food web which nourishes fish and birds. Salt marshes are among the most biologically productive ecosystems on earth, serving as critical habitat for a host of important animal species including fishes, shellfish and birds.
Great blue herons and egrets fish in James River marshes that have a lower salinity. In late summer, these marshes are covered with big cordgrass, a tall, sturdy grass that furnished the Native Americans and colonists with materials for dwellings, mats, baskets, and roping.
Other waterways not influenced by tidal fluctuations provide rich habitats for plants and animals that require water for part of their life cycle. Amphibians and aquatic plants thrive in the ponds on Jamestown Island, in the forested wetlands along the Colonial Parkway, and at freshwater springs in Yorktown. Freshwater wetland plants such as pickerel weed, arrowhead, and rosemallow are visible from the boardwalks along the loop trail on Jamestown Island, where they bloom profusely throughout the summer.
Several rare plant and animal species associated with different wetland types have been documented within the park area. Jamestown Island is an important breeding area for bald eagles, the rare skipper is associated with tidal marshes, and sensitive joint-vetch grows only in exposed mudflats along the shoreline of Powhatan Creek.