Wetlands, Marshes and Swamps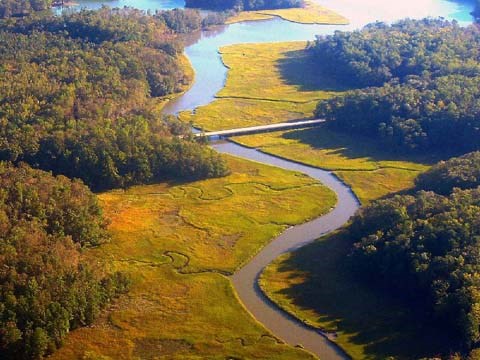 Important wetlands and marsh habitats exist along the York and James River and their tributaries. The freshwater-to-brackish wetlands found within the park provide rich habitats for many marine fishes and invertebrates. All are important nurseries for commercial and recreational sport fishery species. Since all waters in the park drain into the Chesapeake Bay, protection of these wetlands is critical to the health of the bay's ecosystem.
Plants at the edge of waterways are rooted in soil that is mostly underwater. Growing in the salt marshes of the York River, cordgrass is a vital component of the ecosystem; at Indian Field Creek, snails can be seen clinging to its stems. Cordgrass is adapted to survival in saltwater. It removes the water necessary for the snails' metabolism, and releasing salt which crystallizes along the stems. Mussels and crayfish scuttle in the tidal mud which glistens with microscopic diatoms, important components of the food web which nourishes fish and birds. Salt marshes are among the most biologically productive ecosystems on earth, serving as critical habitat for a host of important animal species including fishes, shellfish and birds.
Great blue herons and egrets fish in James River marshes that have a lower salinity. In late summer, these marshes are covered with big cordgrass, a tall, sturdy grass that furnished the Native Americans and colonists with materials for dwellings, mats, baskets, and roping.
Other waterways not influenced by tidal fluctuations provide rich habitats for plants and animals that require water for part of their life cycle. Amphibians and aquatic plants thrive in the ponds on Jamestown Island, in the forested wetlands along the Colonial Parkway, and at freshwater springs in Yorktown. Freshwater wetland plants such as pickerel weed, arrowhead, and rosemallow are visible from the boardwalks along the loop trail on Jamestown Island, where they bloom profusely throughout the summer.
Several rare plant and animal species associated with different wetland types have been documented within the park area. Jamestown Island is an important breeding area for bald eagles, the rare skipper is associated with tidal marshes, and sensitive joint-vetch grows only in exposed mudflats along the shoreline of Powhatan Creek.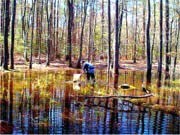 Vernal ponds are unique communities within the park that have standing water during early spring and gradually dry out through the summer and fall. These seasonal ponds are sinkholes, depressions in the land which slowly subside due to dissolution of underlying shell deposits. Ponds formed this way create isolated wetlands separated from perennial streams.
Areas of the Yorktown Battlefield that are adjacent to Newport News Park are included within the boundary of the Grafton Ponds Natural Area Preserve. Over 100 individual vernal ponds and seasonally inundated depressions provide habitat for common and rare plants and animals. Many animal species depend upon these wetlands as habitat for the completion of their life cycle as well as for a fresh-water drinking source. Such wetlands also serve as a link to other wetlands as various species move about.
Studies of the vegetation in these areas reveal much about ecosystem relationships. The flora changes seasonally-some species are evident only during prolonged inundation while others appear in dry periods. Much of the area is forested with three water-tolerant tree species: swamp blackgum, overcup oak, and sweetgum. While some of the ponds are species rich, others are covered with thick leaf litter or a dense Sphagnum moss layer. One pond supports the state's rare Mabee's salamander; in other areas, small populations of unusual plants such as southern twayblade and slender spikerush have been found.
Nepalese browntop and Japanese honeysuckle, both highly invasive species, grow in some of the ponds. Other threats to the health of these ponds are new housing developments, nutrient enrichment from runoffs, and excessive human visitation. The creation of the Grafton Ponds Natural Area Preserve located within Newport News Park, lies adjacent to the park's forested wetlands and forms the larger system of seasonal ponds. This buffer ensures protection of these important habitats.
Last updated: February 26, 2015