The Ordeal of the Border States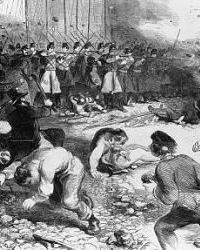 In the Border States, civilian loyalties were divided, with some favoring secession and others remaining loyal to the Union. These divided populations had a profound impact on Union and Confederate strategy, both political and military. Each side undertook measures, including brutal guerilla warfare, intended to persuade or sometimes conquer areas of divided loyalty. Each side suffered setbacks in the face of hostile moral and political views held by local civilians.

In the Border States, the war pitted neighbor against neighbor. The wrong word at the wrong time could land a civilian in jail. In some areas, bitter resentments and divisions remained long after the war was over.
Last updated: April 23, 2015