Ticks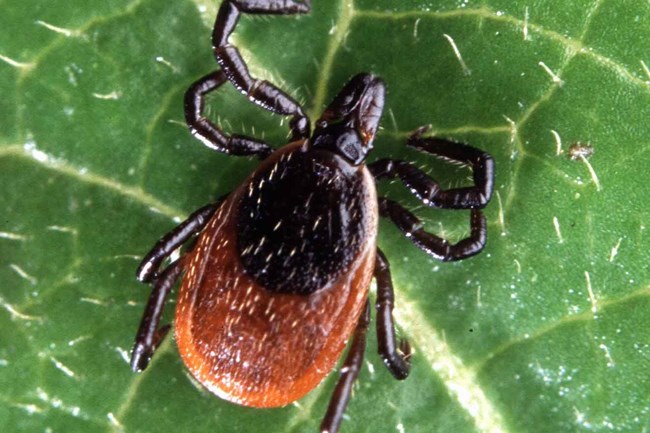 Ticks are present on the islands and can carry bacteria and viruses that can cause disease in humans, including Lyme disease.
Disease Signs and Symptoms
Human symptoms of tick-borne illness usually appear 1 to 2 weeks after the tick bite and include:
Fever and chills
Headache and muscle aches
Rash
Lyme disease symptoms also include:
Flu-like symptoms
Red expanding circular rash, body aches, or swollen lymph nodes
Joint pain that can last for years after infection

Prevention and Control
Reducing exposure to ticks is the best prevention method, especially in warmer months, when ticks are most active. To help prevent tick-borne illness:
Hike in the center of trails
Avoid wooded and bushy areas with high grass and leaf litter
Wear Centers for Disease Control and Prevention (CDC) recommended repellent
Treat clothing and gear with products containing permethrin
Carefully inspect your body, clothing, and pets for ticks after recreating
Bathe within two hours to wash ticks off your skin before they bite
Tips for Finding and Removing Ticks
Bathe as soon as possible to wash off and easily find ticks
Conduct a full-body check for ticks

Use a mirror
Parents should check their children for ticks

Examine your gear and your pets
Tumble clothes in a dryer on high heat for an hour
Testing and Treatment
Antibiotics are effective in treating bacterial tick-borne illnesses and should be used if an infection is diagnosed.
More Information
Visit the CDC for more information.
Last updated: March 1, 2018