Permits & Reservations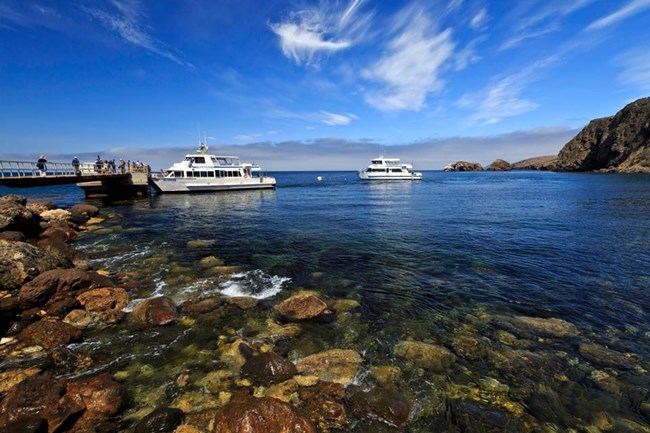 Transportation Reservations
Advanced reservations for boat transportation to the islands are required. Please contact the park concessionaires for reservations.
For boat departures out of Ventura and Channel Islands (Oxnard) Harbors contact:
Island Packers
1691 Spinnaker Dr.
Ventura, CA 93001
(805) 642-1393
www.islandpackers.com
Camping Reservations
Advanced camping reservations are required for all frontcountry campgrounds. Reservations can be made no more than six months in advance. Information required to make reservations includes: camping dates, transportation information, and number of campers. Reservations can be made by calling (877) 444-6777 or through the National Recreation Reservation Service. A confirmation notice will be mailed to campers. This notice needs to be presented to the island ranger upon arrival. For more information visit Camping.
Advanced reservations are also required for backcountry camping. Backcountry camping is available year-round at the Del Norte campsite near Prisoners Harbor on Santa Cruz Island. Also, during certain times of year, backcountry beach camping is allowed on Santa Rosa Island. Reservations are per site-per night and cover up to four people. For reservations, call (877) 444-6777 or visit National Recreation Reservation Service. For more information visit Backcountry Camping.
Private Boaters
No reservations or permits are required to land on the islands administered by the National Park Service. However, a landing permit is required to land on The Nature Conservancy (TNC) property on Santa Cruz Island (western 76% of island). Contact scilandingpermit@tnc.org or http://nature.org/ for a permit; allow at least 15 business days for processing.
A permit is also required for San Miguel Island. The island is owned by the U. S. Navy and open for landing only when National Park Service personnel are on the island. The island was a former bombing range and there are possible unexploded ordnance. It is the responsibility of private boaters to contact the park to ensure the island is open before coming ashore. A permit (including liability waiver) is required to visit the island. Private boaters can obtain these forms at a self-registration station at the Nidever Canyon trail head entry on San Miguel Island. Visitors are required to be escorted beyond the ranger station. Visitors may explore Cuyler Harbor beach, Nidever Canyon, the Cabrillo Monument, and the Lester Ranch site unescorted. No off-trail hiking is permitted. Private boaters are required to e-mail us prior to their mainland departure to arrange for an escorted hike by a ranger. Provide your name, phone number, vessel name, and dates of requested escorted hike. Park staff will then reply with available dates and instructions.

For more information visit Boating.
Last updated: October 24, 2022