Hiking San Miguel Island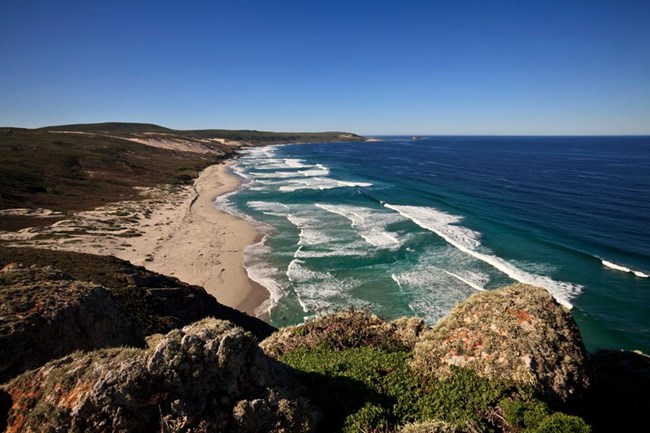 Several trails traverse San Miguel Island providing visitors with spectacular hiking opportunities. While many parts of the island are closed to protect wildlife, fragile plants, and geological features, several areas are open for you to explore.
San Miguel Island is owned by the US Navy and is open only when National Park Service personnel are on the island. A permit (including liability waiver) is required to visit the island. These forms are available at Island Packers and Channel Islands Aviation.
Private boaters can obtain the forms at a self-registration station at the Nidever Canyon trail head entry on San Miguel Island. It is the responsibility of private boaters to contact the park to ensure the island is open before coming ashore.
Visitors are required to stay on the designated island trail system. No off-trail hiking is permitted. The island was a former bombing range and there are possible unexploded ordnance.
In addition, visitors must be accompanied by a ranger beyond the ranger station. When not accompanied by a ranger, visitors may explore Cuyler Harbor beach, Nidever Canyon, the Cabrillo Monument, and the Lester Ranch site.


San Miguel Island Hiking Map and Guide

San Miguel Island Interpretive Trail Guide
Learn about the natural and cultural history on San Miguel Island.

These files require Adobe Reader.


Last updated: May 6, 2021