Channel Islands Live: How It Works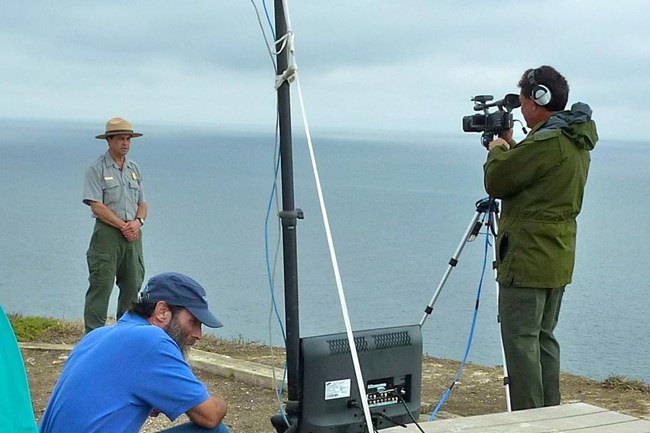 Technology Transports People to a Hidden World
Channel Islands Live programs and webcams are transmitted via microwave frequency from Anacapa Island and Santa Cruz Island across 18 miles of open ocean to towers in Ventura County, part of Ventura County's wireless network. The signal is instantly repeated to a receiver at the Channel Islands National Park Robert J. Lagomarsino Visitor Center in Ventura, where audiences experience the program in real time.
For the 250,000 people who visit the Ventura visitor center annually, these virtual hikes, talks, and dives offer unique opportunities to connect to the rugged beauty and remarkable resources of the islands. Programs are also transmitted to participating schools and broadcast live into classrooms so students can ask questions as they explore the Channel Islands.
Using wireless technology, the Live Dive, offer views into a hidden world. Without ever getting wet, students and visitors can take an "underwater hike" through the Channel Islands kelp forest guided by a park ranger. Fitted with a special SCUBA face mask, an underwater ranger communicates with the live audience and answers questions about the marine ecosystem.
The Live Hike offers students and visitors the opportunity to take an interactive virtual hike on Anacapa Island with park rangers, researchers and scientists to learn about ongoing restoration projects, along with the natural and cultural history of the island without ever crossing the channel.

Last updated: July 22, 2023