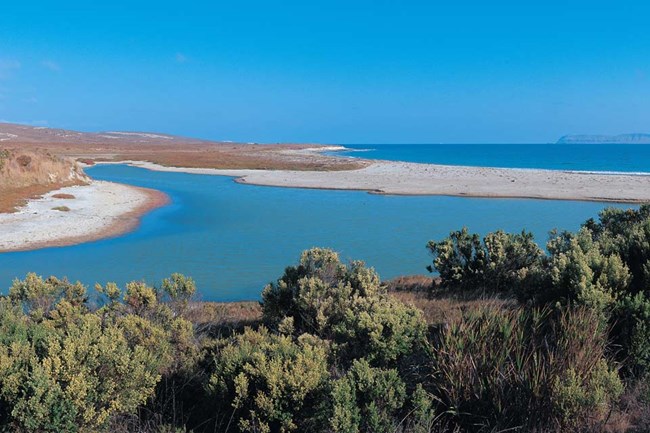 Despite Channel Islands National Park's generally arid Mediterranean environment, streams and coastal areas on Santa Cruz, Santa Rosa, and San Miguel Islands are home to a rich diversity of floodplains and wetlands. While wetlands and floodplains may be physically connected to each other, they are not the same thing. Floodplains are areas of low-lying ground next to a river or stream that fill with water during storms or other periods of high flows. On the other hand, wetlands (often also called marshes or swamps) are places where the soil is always saturated and may be saline or freshwater. Because they hold moisture, both floodplains and wetlands are oases for plant and animal life, especially in dry climates.
Floodplains
By allowing fast-flowing water to spread out and slow down, floodplains help sediment and pollutants settle out, and reduce the frequency and severity of floods. Floodplain vegetation also catches moving sediment, absorbs excess nutrients, and provides a place for fish, birds and other wildlife to find food and shelter. Though most of the islands' floodplains are restricted to just the lower reaches of coastal streams, some are quite extensive, including those along Scorpion Creek and in the lower parts of Cañada del Puerto on Santa Cruz and Old Ranch Creek on Santa Rosa Island.
The Scorpion Creek floodplain stretches across the entire lower valley, but the whole creek channel is often realigned by the particular nature of its hydrology and sediment deposition processes. This creates a unique set of challenges for park managers, as all of the site's facilities and historic structures are in the stream channel or the floodplain. Former occupants addressed this issue by lowering and enlarging the channel. Though the National Park Service has also done some channel excavation, the dynamic nature of this system means that flooding will always be a potential hazard here.
The Cañada del Puerto floodplain covers much of Prisoners Harbor. Upstream where the creek emerges, steep, highly erodible hillsides wash enough sediment into the stream to exacerbate flooding and periodically change the stream's course. Fortunately, though it shares some of the same dynamic characteristics as the Scorpion Creek floodplain, there are far fewer park structures here to worry about.