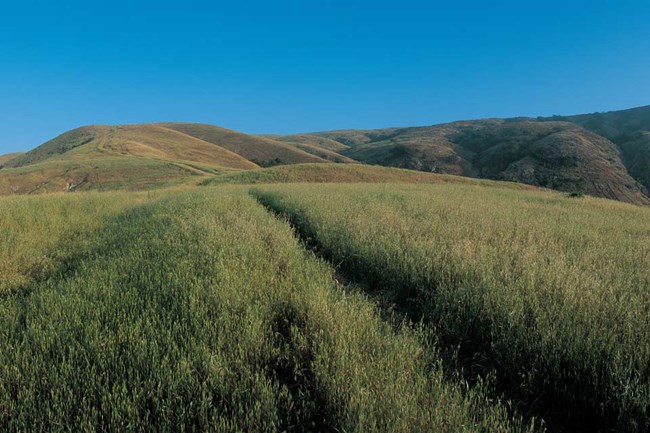 Grasslands are among the most widespread plant communities on the Channel Islands, along with coastal sage scrub. They are found on all of the islands, particularly on coastal terraces and slopes where extensive grazing once occurred.
Introduced annual grasses are the most common plant species within the Channel Islands' grassland communities. These include rip-gut brome (
Bromus diandrus
), soft chess (
Bromus hordeacous
), wild oats (
Avena fatua
), slender wild oats (
Avena barbata
), Italian rye grass (
Lolium multiflorum
), red brome (
Bromus madritensis ssp. rubens
), and foxtail (
Hordeum murinum
). Native forbs and perennial bunchgrasses also occur in the grassland communities, although they are less common. These species include golden stars (
Bloomeria crocea ssp crocea
), wild hyacinth (
Dichelostemma capitatum
), gold fields (
Lasthenia gracilis
), tidy tips (
Layia platyglossa
), California buttercup (
Ranunculus californicus
), blue-eyed grass (
Sisyrinchium bellum
), purple needlegrass (
Nasella pulchra
), and meadow barley (
Hordeum brachyantherum ssp. californicum
).