Volunteer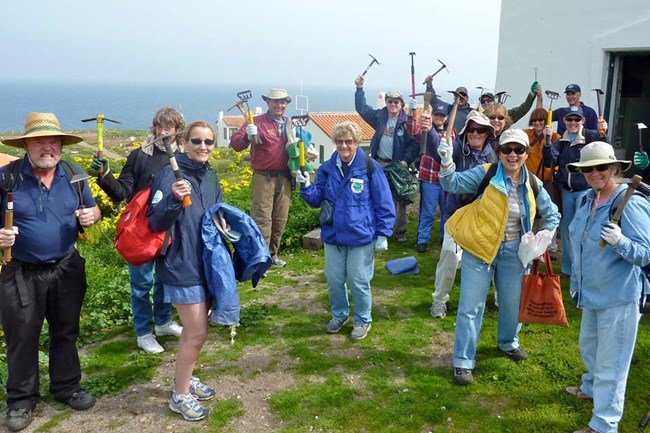 You are invited to become a steward of Channel Islands National Park! Volunteers play a major role in the stewardship of our national parks. Volunteers work in almost every area of the park, contributing their skills, time, and enthusiasm to help preserve and protect the park's natural and cultural resources, and to serve and educate visitors.Volunteers at Channel Islands National Park play a vital role by contributing tens of thousands of hours each year in almost all aspects of park operations:
Visitor Center Information

Education and interpretation

Scientific data entry

Historic research

Trail maintenance

Vegetation restoration

And much more
Some of our recent volunteer projects have included monitoring island foxes on Santa Rosa, San Miguel, and Santa Cruz Islands; maintaining the Del Norte Trail on Santa Cruz Island; restoring cloud forests on Santa Rosa Island; working in the native plant nursery on Anacapa Island; performing beach clean-ups on eastern Santa Cruz Island;providing outreach in the local community;and many others.
Although the park can never repay its volunteers for their valuable contributions, we do our best to make your time enjoyable and fulfilling.
Whatever volunteer job you choose, please know that every park employee knows we could never provide the service we do without our incredible volunteers. Volunteers are essential to meeting the mission of the National Park Service and we could not do it without you.
For an application, please download the Volunteer Application. Volunteer opportunities for all national parks are listed online at volunteer.gov.

For questions about our volunteer program, please contact our Volunteer Coordinator (805) 658-5735 or through email at Volunteer Program.
For information about being an interpretive naturalist in the park visit Channel Islands Naturalists Corps.

VIP Volunteer in Park Video
How can you serve our National Parks? Check out our new video about the Volunteers In Parks (VIP) program and how we're partnering with American Express to get 1 million community members volunteering in our National Parks and public lands.


Last updated: June 3, 2022