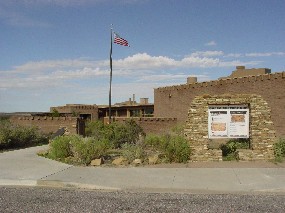 We are the process of a substantial remodeling of our Visitor Center.
The Visitor Center at Chaco Culture National Historical Park is open all year from 8 a.m. to 5 p.m.
There is a staffed information desk where rangers can help you plan your visit. A video is shown throughout the day in the auditorium.
The museum in the Visitor Center features exhibits on the cultural history of Chaco Canyon.
Books, videos, postcards, posters, tee-shirts, etc. are available in the Western National Parks Association bookstore within the Visitor Center.
The Visitor Center is closed on Christmas, Thanksgiving, and New Years Day.