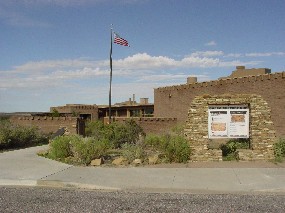 The Visitor Center at Chaco Culture National Historical Park is open all year from 8 a.m. to 5 p.m.
There is a staffed information desk where rangers can help you plan your visit. A video is shown throughout the day in the auditorium.
Currently, the museum in the Visitor Center is under construction and is expected to be completed in the spring of 2017.
Books, videos, postcards, posters, tee-shirts, etc. are available in the Western National Association bookstore within the Visitor Center. This is the only location where you can purchase trail guides for each of the archaeological sites.
The Visitor Center is closed on Christmas, Thanksgiving, and New Years Day.
Six years ago, we began a substantial remodeling of our Visitor Center.