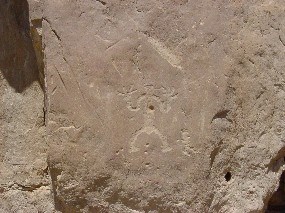 Petroglyph Trail
(1/4 mile, allow 30 minutes)
If you are planning on visiting both Pueblo Bonito and Chetro Ketl, you may consider walking along the cliff face between the sites on the Petroglyph Trail. Take water and travel in small groups to lessen impacts to this fragile area. Bring binoculars to better view the high petroglyphs. Please stay on the designated trail, and do not climb the rocks.
Trail guides are available for purchase at the Visitor Center bookstore.