Plan Your Visit
Make the most of your visit!
Make your first stop the Visitor Center. From there, a 9-mile loop road accesses five major Chacoan sites, including Pueblo Bonito. Short self-guided trails are marked at each site. Pets are not permitted on these front country trails.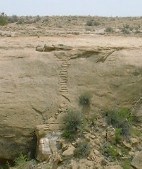 Four backcountry hiking trails access more remote sites and features. Free permits are available at the Visitor Center and at all trailheads. All sites and trails are open from 7:00 a.m. to 9:00 p.m. (May 1-October 31), 7:00 a.m. to 5:00 p.m. (Nov 1-Feb 28), and 7:00 a.m. to 7:00 p.m. (Mar 1-Apr 30). Pets are permitted on backcountry trails as long as they are on leashes no longer than 6 feet. Pet owners must clean up after their animals.
Ranger programs are offered throughout the year, but are dependant on staffing. April through October, night sky programs and telescope viewing of the spectacular dark night sky are offered. Check the Guided Tours page, the schedule at the Visitor Center or call 505-786-7014 for more information. Ranger programs can be found on the park calendar.


Last updated: February 22, 2023