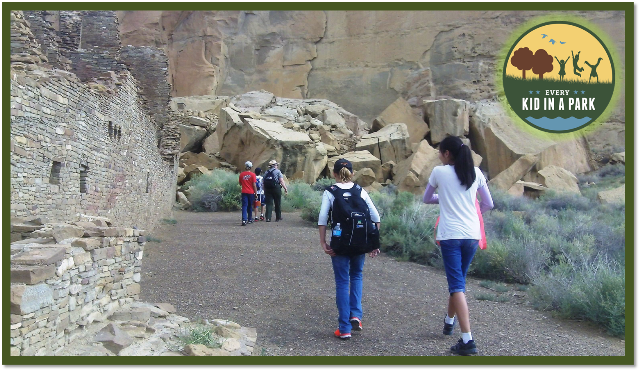 Calling all 4th graders!
A world of learning, discovery, and fun awaits every kid!
From Puerto Rico to Maine and Virginia to the Pacific Islands, some of America's most fun and awesome places - your national parks, national wildlife refuges, national forests, and other federal lands and waters - are just waiting for you to discover them!
Visit cool places like Chaco Canyon, Gila Cliff Dwellings, Bosque del Apache, and other parks, refuges, national forests and federal lands around the country. Listen to howling wolves, check out prehistoric petroglyphs or dinosaur tracks, paddle a river, climb up to mesa tops, or camp out under the stars. There's a lot of cool and exciting stuff to do!
The Every Kid in a Park program kicks off September 1, 2015. If you are a U.S. 4th grader (including home-schooled and free-choice learners 10 years of age), you can download a voucher that gives you unlimited, free access to any federal lands or waters for the whole year!
I'm a 4th grader - how can I get a free pass?
Getting a pass is easy! Just go to the "Get Your Pass" section of www.everykidinapark.gov and play a fun online game! Then download and print your voucher. This paper voucher can be exchanged for a cool Annual 4th Grade Pass at sites that have those passes, including Chaco Culture National Historical Site. Each year the pass will have a new design just for the kids of that year!
Does the pass just get me in free, or does it include anyone else?
If you are a 4th grader and you have one of the Every Kid in a Park passes or vouchers, then both you and anyone in the vehicle with you gets in free at sites that charge by vehicle. If a site charges by person, then you get in free and up to 3 adults that are with you also get in free! The same goes if you are on bicycles. But the 4th grader must be present to use the pass.
I'm not a 4th grader, I'm an educator who works with 4th graders. Can I be involved in this program?
Educators can find out how they might be able to use this pass program with their students at www.everykidinapark.gov.