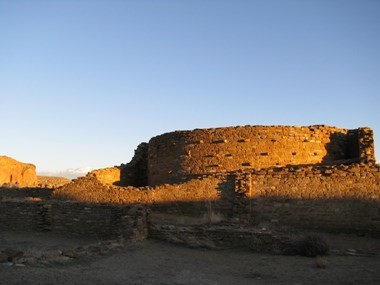 Chetro Ketl
(1/2 mile, allow about 45 minutes)
Located 4 1/2 miles from the Visitor Center on the 9-mile Canyon Loop Drive. The trail through Chetro Ketl is ½ mile, roundtrip. It is graveled, and climbs several short, steep rises, so assistance is recommended for people using wheel chairs. When you visit Chetro Ketl, you can use the trail guide to help you recognize characteristics of Chacoan architecture--features that are both typical and unique. Chetro Ketl is the second largest Chacoan great house. It covers more than 3 acres, and contains a great kiva and elevated kivas. As builders constructed second and third stories, they created an elevated plaza that stands 12 feet above the canyon floor. Click here to see a wayside exhibit of Chetro Ketl.
Trail guides are available for purchase at the Visitor Center bookstore.