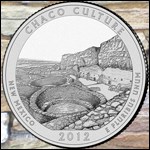 On April 26th, 2012, Chaco Culture National Historical Park will dedicate the new visitor center, and in partnership with the U.S. Mint, we will launch the new Chaco Culture National Historical Park Quarter. In addition, the park will be celebrating its 25th anniversary as a World Heritage Site. The formal dedication ceremony starts at 10:30 am and will take place outside by the Visitor Center. Special programs, tours and presentations will be held throughout the afternoon.
Schedule of Events

Ceremony Program - 10:30 am
American Legion Post 120, Lake Valley, NM
Presentation of Colors

Apache Elementary Honor Choir, Farmington, NM
Pledge of Allegiance (in English, Navajo, and Spanish)

Councilman Ernest M. Vallo Sr., Pueblo of Acoma
Traditional Blessing

Barbara West, Superintendent, Chaco Culture NHP
Welcome & Introductions

Theresa Pasqual, Director, Acoma Historic Preservation Office
Remarks - Celebrating World Heritage

Apache Elementary Honor Choir, Farmington, NM
Performance

Richard Peterson, Deputy Director United States Mint
Remarks - Quarter Launch

Barbara West, Superintendent, Chaco Culture NHP
Remarks - Visitor Center Dedication

Ribbon Cutting Ceremony

Barbara West, Superintendent, Chaco Culture NHP
Concluding Remarks

La Vida Mission School, Lake Valley, NM
Post Event Entertainment

Wells Fargo Bank, Bloomfield, NM
Quarter Exchange to Follow Ceremony

Presentations & Programs
1:00 p.m.Steve Lekson
Changing Views of Ancient Chaco: What We've Learned over the Past Century
Archaeological understandings of chaco combine information from Native histories and traditions, anthropological insights, and the facts on the ground. Over the pst hundred plus years, our views have evolved to incorporate new information and ideas.

2:00 p.m. David Stuart
David Stuart is a professor at the University of New Mexico. He is a respected author of books on southwest archaeology and a long time supporter of Chaco Culture NHP.

3:00 p.m. Lynne Sebastian & Carla Van West
The Changing Landscapes of Chaco Canyon
Today the park features monumental Great Houses, constructed between 850-1150 A.D. Even before that time however, people left their mark on the canyon. It is the archaeological features they left behind that will be the topic of this presentation.

4:00 p.m.Jane Kolber
Rock Art at Chaco
Jane Kolber has studied rock art throughout Chaco Canyon and the world. Discover Chaco's rock art, the techniques for creating petroglyhps and pictographs, and the importance of protecting the numerous rock art designs at Chaco.

12:00 p.m. - 2:00 p.m. David Grant Noble
Book signing
David Grant Noble is a noted author and photographer. He is recognized for his efforts to bring historical and archaeological awareness of the southwest to the public. His books include Ancient Ruins of the Southwest and In the Places of the Spirits.

11:30 a.m. - 3:00 p.m.Chetro Ketl and Pueblo del Arroyo
Archaeologists will be stationed at Chetro Ketl and Pueblo del Arroyo to discuss the early excavations, preservation, and relevance of these sites.

12:00 p.m. - 4:00 p.m.Pueblo Bonito
Tours of Pueblo Bonito will be given on the hour.

Shuttle Services
Please use the shuttle vans to help ease congestion in the parking areas.
Shuttle vans will be moving throughout the park from 9:00am to 5:00pm.
Shuttles will run every 20 to 25 minutes.

Shuttle Stops are Located at:
Gallo Campground
Residence Area
Visitor Center
Pueblo Bonito / Chetro Ketl
Pueblo Del Arroyo
Casa Rinconada