Camping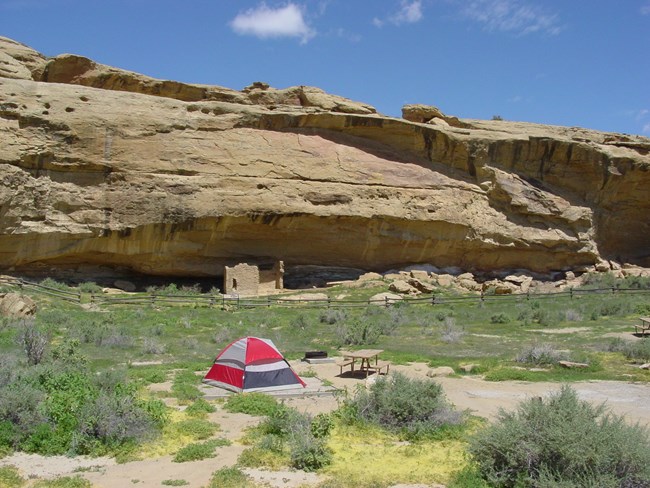 Please note: In July 2023, a major rockfall occurred near the cliff dwelling. 8 sites have been temporarily closed until at least October 2024 due to a high risk for additional rockfall. The trail by the cliff remains closed during this time as well. Please check in at the visitor center for additional information.

The Gallo Campground within Chaco Culture has 32 individual sites and 2 group sites. We recommend making a reservation on www.recreation.gov to ensure a camping or RV space on the dates you plan to visit.

All unreserved campsites will become available on a "first come, first serve" basis; please inquire for availability at the visitor center when you arrive.

The group campsites are available for reservations. The group leader must check-in at the visitor center before setting up camp.

Guided tours and evening programs will be offered depending on staff availability.

Individual sites are $20/night. Senior and Access passes offer a discount for camping. Group sites are a flat rate of $60/night. Visit www.recreation.gov or call 1-877-444-6777.
Open
Open All Year. Closed 6 nights: the night before Thanksgiving, Thanksgiving, December 24th, December 25th, December 31st and January 1st.
Details
Gallo Campground, located one mile east of the Visitor Center, is open year-round. Tucked among the fallen boulders and cliffs of Gallo Wash, the campground offers camping in a rugged environment, surrounded by petroglyphs, a cliff dwelling, inscriptions, and a high desert landscape. There is no shade. The campsites are available by reservation. Reservations will be open on recreation.gov three months prior to the date. Camping is limited to 30 days in a calendar year, and 14 consecutive days at a time. Group campsites may be reserved for no longer than 7 consecutive days at a time. As a reminder, if you are not here by the second day of your reservation, you do forfeit the remainder of your reservation and the campsite will be sold on a "first come, first serve" basis for the rest of the reservation. For more details on camping regulations within the park, see the Superintendent's Compendium.

Each campsite costs $20.00 per night. Interagency Senior and Access pass holders pay $10.00 per site, per night. There is a limit of six people, two tents, and two vehicles at each campsite. Check-out time is 11:00 AM.

Each site has a picnic table and fire grate (with a grill). Bring your own firewood or charcoal. Gathering wood is prohibited and no firewood is available for sale in the park. Most sites include a tent pad. Pets are permitted, but must be kept on a leash at all times. Do not approach or feed the wildlife. The campground has water and restrooms with flush toilets, but no showers or hook-ups. Site #11 and both restrooms are handicap accessible.There is no gasoline, auto repair, food, or ice available in the park. To make the most of your visit, please plan ahead and come prepared. If you have additional questions, please call the visitor center at 505-786-7014.
Tent Camping
Most sites are open to RVs or tents. Car camping is allowed. There is a limit of six people, two tents, and two vehicles at each campsite. No tent camping is allowed in the "RV Only" sites.
RVs
Please keep in mind the following information:
- Trailers and RVs over 35 feet in length cannot be accommodated.
- There are no hook-ups.
- A dump station is located in the campground.
- Generators may be operated between the hours of 8:00AM-10:00AM, 12:00-2:00PM, and 5:00-7:00PM daily.
- Sites 12-16 are for RV camping only.
- No tent camping is allowed in the RV sites. You may be asked to leave if you do not have an RV in the "RV only" sites.
Alternative Camping
Occasionally, the 32 regular sites and 2 group sites in Gallo Campground fill up. Usually, this occurs on Friday and Saturday afternoons, holiday weekends, and on other unpredicted days when many visitors and groups happen to converge. Alternate camping options can be found here.
Gallo Campground Group Sites:
Two group campsites are available, each accomodating 10 to 30 people and no more than 5 vehicles. Group stays are limited to seven (7) days at a time. Group campground reservations must be made in advance by visiting www.recreation.gov or by calling 1-877-444-6777. The cost for group camping is $60.00 per night. The group campsites are designed for tent camping and cannot accommodate RVs, pop-up trailers, etc. Picnic tables and a fire ring (with a grill) are provided at each site.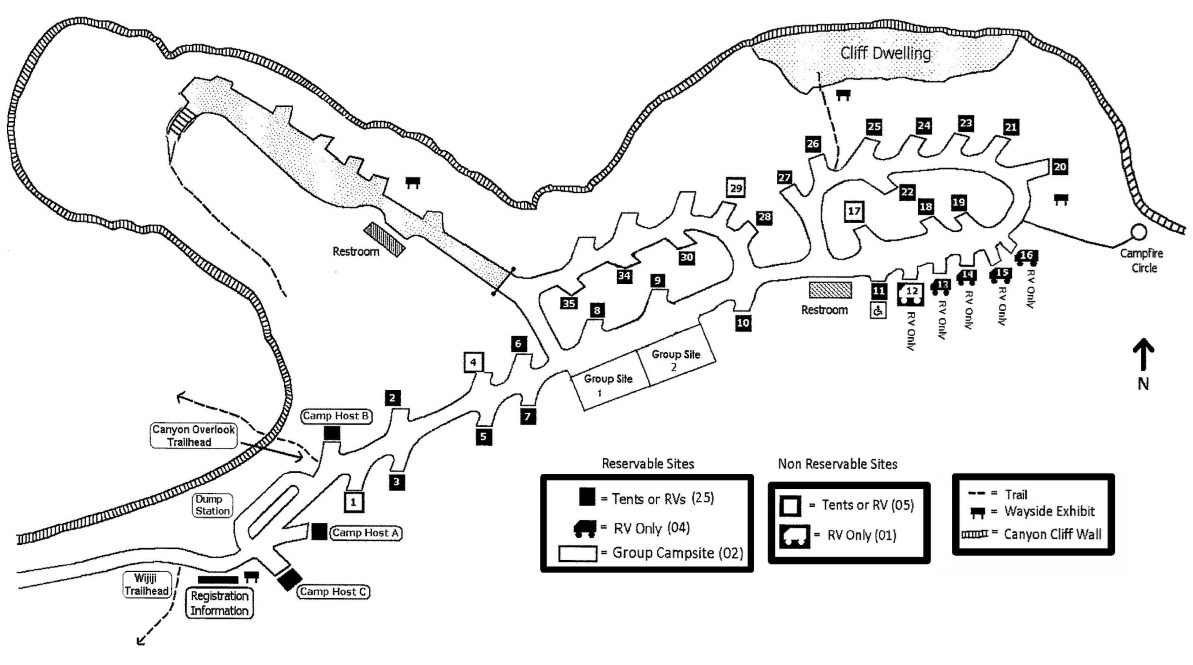 Last updated: September 27, 2023