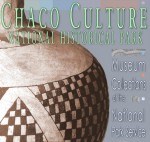 The type of artifacts in the collection include the full range of Chacoan material culture -- prehistoric vessels, stone and bone tools, matting and sandals, ground stone tools for making corn flour, projectile points, hammers and mauls, hoes and digging sticks, corn cobs and turkey bones, and ornaments of shell, Turquoise, jet, and bone. The collection also contains a wide variety of ecofacts (ecological specimens that yield information about the environment) such as faunal and botanical specimens, pollen and soil samples, mineral specimens, and wood samples used for tree-ring-dating.
Highlights in the collection include:
The majority of the artifacts were collected during the Chaco Project (1970 - 1985), a multidisciplinary research program of survey and excavation. The Chaco Project began with an inventory survey of parkland that identified nearly 4,000 sites, two-thirds of which are prehistoric. Surface collections from this survey and from site excavations produced a systematic research collection that is critical to understanding and interpreting the Chacoan Culture. Today, artifacts from 70 excavated and tested sites are housed in the collection, as are surface collections from over 1,800 sites (Excavated Sites).