Things to Know Before You Visit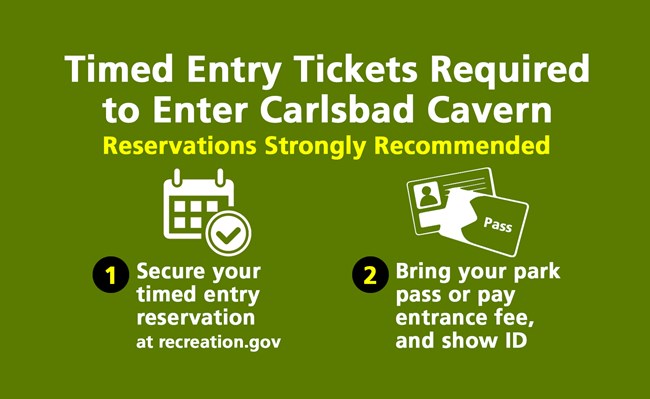 Timed Entry Tickets Required to Enter Carlsbad Cavern
Reservations are strongly recommended and can purchased online or by calling 877-444-6777.
Reservations are only for selecting the entry time.
Upon arrival at the visitor center, entrance tickets must be purchased.
Some areas of the Big Room and Natural Entrance trails are wet from natural water drips and steep. For safety, closed-toe shoes with good traction (e.g. lug soles) are recommended. Flip flops, sandals, and some walking shoes have little or no traction and increase the possibility of slips, trips, and falls.

You may want to bring a light jacket or sweater as the year-round temperature in the cavern is about 56ºF (13ºC).

Baby strollers are not permitted in the cavern. A baby backpack may suit your needs if you need to carry your child.

If medically necessary, canes and walking sticks are permitted on the Big Room, Natural Entrance, and King's Palace trails. For safety, canes and walking sticks are required to have a rubber or soft tip.

Don't forget your camera! Flash photography in the cave is permitted, just be courteous of the person next to you when you use your flash. Tripods are permitted on the Big Room and Natural Entrance trails, but not on ranger-guided tours.

The cavern is dimly lit. You are welcome to bring a flashlight or headlamp, but it is not necessary.

Plain water is permitted in the cavern, but no flavored water or drinks. Also, no food, gum, mints, candy, or any product that could attract animals into the cavern where they can't escape.
No tobacco products of any kind, including e-cigarettes/vaping and chewing tobacco.

You can bring your cell phone, but there is no signal in the cavern. Remember to put it on "airplane mode" or turn it off if you are taking it in the cavern to conserve the battery.

We will ask you if you've been in any cave in the past 10 years and if you wore the same shoes or carried the same camera equipment. If you answer "yes," you will need to wipe your items with disinfectant because of a deadly fungus known as "White-nose Syndrome." We need your help to protect the health of the Brazilian free-tailed bats that call Carlsbad Cavern home six months out of the year.

Please bring your quiet voice, noises carry up to a 1/4 mile (0.4 km) in the cavern.
Weather and Climate
Carlsbad Caverns National Park is located in the Chihuahuan Desert in southeast New Mexico. Summers are hot with temperatures from 90ºF to the low 100sºF (32ºC to about 40ºC). On hot days, please use caution. If hiking, bring plenty of water and a cell phone (reception can be spotty in the backcountry), hike early, use sunscreen, and wear a hat.

Windy conditions and mild temperatures are common in early spring (March-May) with frequent rain in late summer/early fall (August-September). This part of the country can also experience cold temperatures in the winter with occasional snow and icy conditions. Most days, the park is enveloped by a gorgeous blue sky with very few clouds, 278 sunny days a year!
Groups with Minors
For groups of visiting minors (i.e. church, scouts, students), the park requires responsible chaperones to accompany the group at a minimum of one adult chaperone per 10 minors.
Where to Park
There are two parking lots at the visitor center. If you are driving or towing an RV, or driving a bus, please pull into the first parking lot at the visitor center on your left and drive to the rear of the lot for RV/bus parking.


Last updated: June 23, 2023