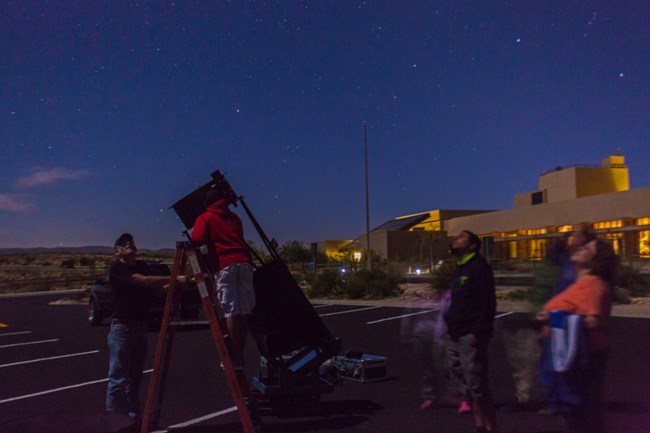 Star Parties
Check back for the 2018 schedule.

Every summer, Carlsbad Caverns National Park hosts many wonderful night sky events. The park is a perfect spot for viewing the wonders of the night sky due to its location far from city lights.

Telescopes may be available for viewing the celestial night sky and provide an opportunity for visitors to see what spectacular views are available in the universe above. Rangers will be available to discuss a variety of topics from nocturnal creatures, cultural folklore, and astronomy.

The public is welcome. No fee or advance reservations are necessary. Bring a flashlight and dress for the weather.

These events are held immediately after the Bat Flight Program in the east parking lot (the lot with the flag pole). The visitor center and cavern will not be open during these events. Restrooms will be available.

The program may be cancelled due to inclement weather.

Give Me the Sun and the Moon Events
Check back for the 2018 schedule.

These programs is suitable for all ages, but be prepared to hike (1/4 mile (0.4 km) for new moon star gazing and 1.5 miles (2.4 km) for full moon hikes) on a rugged desert trail with a minor elevation change. Although this program is free, attendance will be limited to first-come, first-served with a maximum of ten vehicles or 35 participants. Please register for this program at the information desk in the visitor center on the day of the program. Registration may be available at the evening's Bat Flight Program. Ask a ranger for more details.

Most of the hikes will begin after the Bat Flight Program. Meet the rangers at the Bat Flight Amphitheater to find out where to gather for the hike. Some hikes will require that we will caravan to the spot where the hike will begin.

Dress comfortably with comfortable shoes. No open-toed shoes and we recommend pants and not shorts. Bring water and a snack. For the new moon star gazing, bring a blanket or towel to lie on.

Please bring a flashlight and headlamps and red filters if you have them! Rangers will provide red filters if you do not have any.

The program may be cancelled due to inclement weather.