Traveling with Pets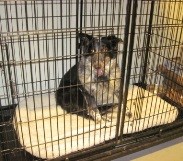 Be aware that desert temperatures, thorny vegetation, and predators may be a serious threat to your pet's well-being.

Please consider the following points before deciding to bring a pet:
Pets are not allowed in the cavern, on unpaved park trails on the surface, off road, during the Bat Flight Program, or in the visitor center.

Pets need to be on a leash no longer than six feet in length when outside your vehicle.

You are not allowed to leave your pet unattended in vehicles. They must be kenneled.

Pet etiquette and park regulations require that you always clean up after your pet and dispose of waste in trash receptacles.
Kennel Information
The

park concessioner, Carlsbad Caverns Trading Company, operates a kennel service where you may leave your pet in a temperature controlled environment while you tour the cavern. The kennel is for day use only—no overnight stays.

Fee: $15/day

Rabies Vaccine Requirement: Owners are required to show a copy of the pet's rabies vaccination record with the expiration date when boarding a pet. Rabies tags don't meet this requirement and won't be accepted.

Operating Hours: 8 am–3:30 pm

Last Time to Drop-Off Pet: 2:15 pm

Last Time to Pick-Up Pet: 3:30 pm

Reservations are not accepted. This service is provided on a first-come, first-served basis.

They rarely run out of cage space, but if they do, the larger cages go first. There are three sizes of cages, length x height x width:

49" x 37" x 44"
47" x 24" x 32"
47" x 24" x 24"

Pets are kept in cages relative to their size, such as a small dog in a small cage. Water is provided for the pet, but the owner must provide food or bedding if they feel it's needed.

The concessioner accepts no responsibility for injuries that might occur during a pet's stay in the kennels.

Employees do not handle pets and do not remain in the kennel room with the pets.

If you have more specific questions, contact the Carlsbad Caverns Trading Company at 575-785-2281.
Last updated: January 10, 2023