Plan Your Visit
ELEVATOR STATUS:

In Service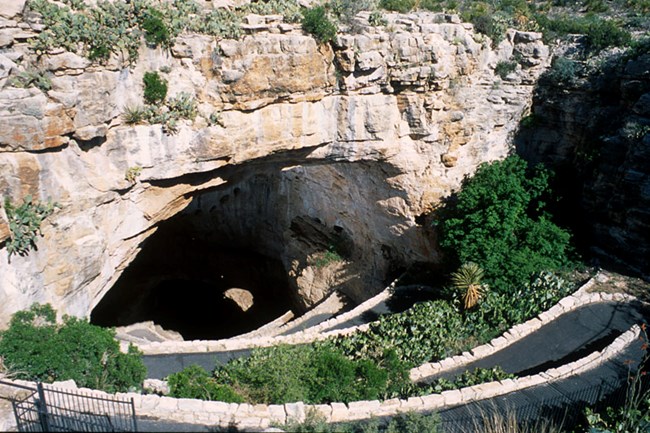 You get to choose the way you see Carlsbad Caverns National Park! Your adventure may include a hike down 750-feet on the 1.25 mile Natural Entrance trail, a 1.25 mile self-guided walk through the Big Room chamber of the cavern, going with a ranger on an "off-trail" adventure hike, a back country trek through the Chihuahuan Desert or birding around a natural spring in the hidden oasis of Rattlesnake Springs.
If you opt to experience the cavern with a park ranger you might find yourself on a tour of the beautifully decorated King's Palace; walking into the deep, dark recesses of Left Hand Tunnel, lit only by a handheld lantern; shimming through a "chimney" in Spider Cave; squeezing through a "pinch" in Hall of the White Giant; climbing down a ladder in Lower Cave or being amazed at the shimmering Christmas tree formation in Slaughter Canyon Cave. All ranger-led tours are reservable and require an additional fee, see Cave Tours.
Join us for a spectacular Bat Flight program, May through October, when hundreds of thousands Brazilian Free-tailed bats exit the cave at dusk on their nightly forage for food. Bat Flight program times change throughout the season, so please check with rangers at the visitor center or call 575-236-1374 for nightly program times.

We also have fabulous night sky events through the summer and into fall! Join us after the Bat Flight Program to hike under a full moon or look through a telescope at star clusters!
You are also invited to watch the park movie entitled "Hidden Worlds - Carlsbad Caverns National Park." The movie features high definition photography of the cave natural wonders, bats in flight, cave tours, and a fly-over of the cave's Natural Entrance. The free, 16-minute long movie shows every 30 minutes daily starting at 8:15 a.m. with the last showing 30 minutes before the visitor center closes.

Last updated: October 4, 2017