Operating Hours & Seasons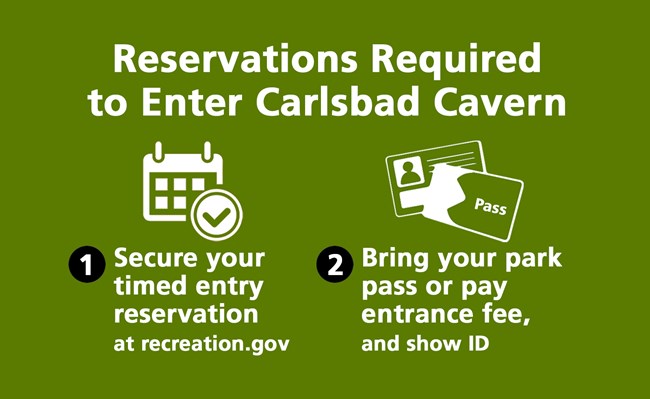 COVID-19 Operations Update:

Reservations Required to Enter Carlsbad Cavern
Reservations must be purchased online or by calling 877-444-6777.
No reservations available at the park.
Reservations are only for selecting the entry time.
Upon arrival at the visitor center, entrance tickets must be purchased.
Carlsbad Caverns National Park is closed on Thanksgiving, Christmas, and New Year's days. This includes the visitor center, cavern, roads, and trails.
---
Visitor Center Hours
8 am–5 pm

Last Cavern Entrance Ticket Sold
2:15 pm

Last Cavern Entrance
2:30 pm

Elevator
INTO the Cavern
8:30 am–2:30 pm
Last Elevator OUT of the Cavern
4:45 pm
Hike
INTO the Cavern
8:30 am–2:30 pm
Last Time to Hike OUT of the Cavern
3:30 pm (complete hike out by 4:30 pm)


Last updated: October 24, 2022