Weather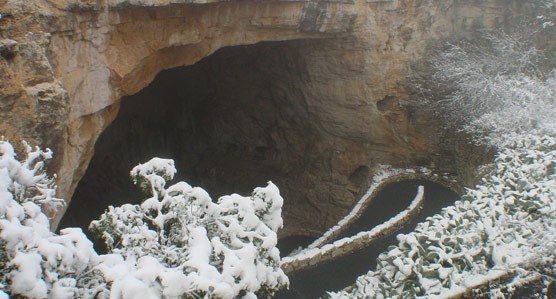 Surface Climate
Carlsbad Caverns National Park preserves and protects a portion of the northern Chihuahuan Desert, the largest and the wettest of the North American deserts. The park averages 14.9 inches of annual precipitation with a monsoon season that usually occurs from July through September when massive thunderstorms drop much of the rain for the year. The park has a semiarid climate with generally mild winters and warm to hot summers. The average annual high temperature is 79°F and the average annual low temperature is 47°F with a mean annual temperature of 63°F.
Weather Records from January 1935 to April 2004

Record High Temperature (°F)

Record Low Temperature (°F)

Record High Precipitation (in)

Average Monthly Precipitation (in)

January

81

-4

2.37

0.45

February

84

1

2.44

0.43

March

94

10

3.59

0.41

April

96

21

5.81

0.60

May

106

31

10.57

1.42

June

110

41

8.52

1.71

July

106

50

5.96

2.06

August

104

52

11.71

2.38

September

100

33

12.37

2.90

October

97

15

5.12

1.40

November

86

8

4.50

0.56

December

80

2

3.56

0.48
For more information on park weather and climate, please visit the following websites:
Cave Climate
Caves, in general, have fairly stable climate conditions. Once past the entrance area of most caves, the temperature and humidity levels become fairly stable with little variation. This is mostly due to the lack of influence from the outside environment. The temperature in these caves tends to reflect the average annual temperature for the area at that given elevation, though larger cave systems tend to capture some heat rising from the earth's core making them a little warmer than they would be otherwise. Caves are usually considered to be closed environments and so when moisture is available, it is usually not released to the outside except around entrances and so relative humidity levels are usually close to 100%.
Climate conditions in Carlsbad Cavern are an exception to the average cave. With a large entrance and many miles of passages that drop over 1000 feet, climate conditions in the cave are very complex and only remain fairly stable long distances from the entrance. The main portion of the cave is a cold trap. In winter, once the temperature outside has dropped below the temperature in the cave, cold, usually dry, air plunges into the lower part of the entrance. This cold dry air flows down the large Main Corridor and into the Big Room and Lower Cave. As this cold dry air pushes into the cave along the floor, warmer moist air is displaced, forced up to the ceiling and pushed out of the upper part of the entrance. Over a long period of time, this natural process has cooled the Big Room to an average of 56°F, which is 12°F cooler than the ends of the cave and other large cave systems in the area. This influx of cold dry air is a natural drying process that changes the relative humidity in significant parts of the cave as well. Relative humidity drops to as low as 87.5% in the Big Room during winter months and remains at about 100% during the summer months when there is less airflow exchange from the entrance.
Tthe climate at the deepest point in Carlsbad Cavern-at 1,034 feet-is less affected by this process. Because of its depth and distance from the entrance, this lowest point remains a more constant and warmer 68°F and closer to 100% relative humidity.
Climate Conditions within Carlsbad Cavern

Location

Min T

Max T

Min RH

Max RH

Devils Spring

43.9

57.4

42.2

100

Big Room

55.3

57.3

87.5

100

Left-Hand Tunnel

60.1

61.5

87.5

100

Lechuguilla

62.9

68.3

97.7

100
The climate conditions within Lechuguilla Cave, also within park boundaries, are significantly different than those in Carlsbad Cavern because it is an extremely large and deep cave (over 121 miles long and the deepest limestone cave in the United States at 1,604 feet deep) with only one very small entrance. While the cave itself has a very complex wind system due to barometric pressure changes on the surface, the influence from surface conditions at the entrance to most of the cave is small. Temperature and relative humidity reach fairly stable conditions a short distance into the cave. The average temperature throughout the cave is also 68°F and the relative humidity remains close to a constant 100%. Lechuguilla Cave is such a large cave system and the climate conditions portray some subtle variations that cannot easily be explained. Though more subtle than climate variations in Carlsbad Cavern, these are only now being recognized and studied.


Last updated: February 24, 2015