Chihuahuan Desert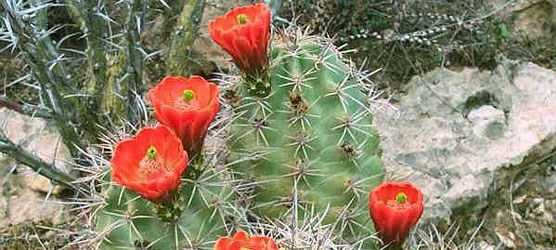 Carlsbad Caverns National Park is situated in the northern portion of the Chihuahuan Desert region. It is in an overlap area that is influenced by ecosystem components of the Sierra Madre, Rocky Mountains, and Great Plains. The park's lower elevations tend to share the traits of the Chihuahuan Desert and Great Plains, while the higher elevations tend to have similarities with the Rocky Mountains and the Sierra Madre of Mexico.
The Chihuahuan Desert, shared by two nations, is the most biologically diverse desert in the Western Hemisphere and one of the most diverse in the world. Most of this desert occurs in Mexico, with only the northern third in the United States. Like much of the southwestern US, the Chihuahuan Desert is marked by the occurrence of mountain ranges and valleys. The mountains provide milder and sometimes moister habitats than the lowlands.
The boundaries of the Chihuahuan Desert region are imprecise, with variations in the way different scientists map it. In general, it encompasses nearly 200 million acres, extending from south of Albuquerque, New Mexico, to the vicinity of Mexico City, including most of the states of Chihuahua, Coahuila, Durango, Zacatecas, and San Luis Potosi, as well as large parts of New Mexico, the Trans-Pecos region of Texas, and the southeast corner of Arizona.
The Chihuahuan Desert is dry partly because of the rain shadow of the mountain ranges on either side, the Sierra Madre Oriental and the Sierra Madre Occidental. Because of its inland location between mountains, coastal storms lose moisture before they arrive here. While the other North American deserts each have a summer and winter rainy season (because they are closer to the Pacific Ocean), rain typically comes to the Chihuahuan Desert only from July to October. Because of its inland position and relatively high elevations, this desert tends to have hot summers and cool or cold winters. All areas are subject to occasional winter frosts, and northern portions regularly receive hard freezes and some snowstorms.
The Chihuahuan Desert region has more species of cacti than any other desert. Many botanists believe that these plants originated here or to the south, and radiated out through the New World. Despite all this diversity, cacti do not usually dominate the landscape in the Chihuahuan Desert. It is predominantly a shrub desert without the large cacti and trees of the Sonoran Desert. For more information, see the sections on shrubs, cacti, etc.)
Last updated: February 24, 2015