Park Fun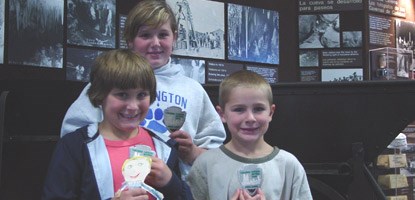 KIDS! If you and your family are planning a visit to Carlsbad Caverns National Park, here are just a few of the fun things you can do while you're here...
Bat Flight
From mid-May to mid-October, watch as several hundred thousand Brazilian free-tailed bats exit Carlsbad Cavern around sunset.
Cave Tours
Everyone in the family can go on the self-guided tours of Carlsbad Cavern. Strollers are not allowed in the cave, so you might want to bring a baby backpack instead.
Children must be at least 4 years old to go on the King's Palace tour; 6 years old to go on Left Hand Tunnel; 8 years old to go on Slaughter Canyon Cave tour and 12 years old to go on the Lower Cave, Hall of the White Giant and Spider Cave tours.
Junior Ranger
The Junior Ranger program teaches children about the park's surface and underground resources. Younger children will color and draw, and find objects in a visual scavenger hunt as part of the Jr. Ranger program. Older children will complete word searches, and write stories and poems. The Junior Ranger booklet is available at the Visitor Information desk. Just ask a Ranger for your copy!
KidsCorner
KidsCorner is our summer visitor center program, designed for elementary-aged kids. They'll learn about bats, caves, plants and animals of the desert. Then they'll participate in a fun activity that might include an arts and crafts project or a game.

Last updated: June 23, 2015