Guadalupe Ridge Trail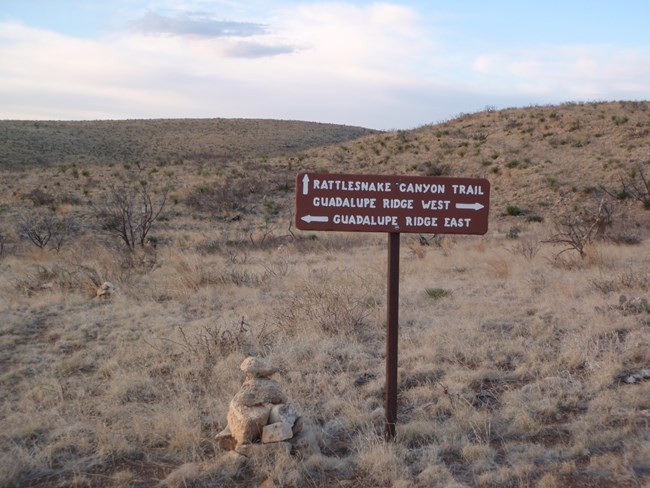 The Guadalupe Ridge Trail (GRT) is a designated National Recreation Trail and at 100 miles (161 km) long, provides hikers and backpackers with a true wilderness experience in the Chihuahuan Desert and Guadalupe Mountains. The GRT begins atop the highest point in Texas, Guadalupe Peak, located in Guadalupe Mountains National Park, winds through the Lincoln National Forest and Bureau of Land Management property, and ends at Carlsbad Caverns National Park's eastern boundary in White's City, New Mexico. This web page will help you plan your trip for the section of the GRT that crosses through Carlsbad Caverns National Park.

The GRT comes through Carlsbad Caverns National Park for nearly 21 miles (34 km) and changes approximately 2,700 feet (823 m) in elevation over rugged, desert terrain. You enter the national park from its western boundary, walk along the Desert Scenic Drive at the GRT trailhead, and then walk past the park's visitor center on your way to the trail's final 3.7 miles (6 km). Maps are available on the GRT's official website, http://guadaluperidgetrail.com/, and trail maps can also be purchased in bookstores at Guadalupe Mountains and Carlsbad Caverns national parks.

Services and facilities along the GRT in Carlsbad Caverns National Park are limited and regulations may be different from those of neighboring public lands agencies.

Guadalupe Ridge Trail Brochure
Regulations
Campsites must be located at least 100 feet (30.5 m) off established trails, 300 feet (91 m) from any water source or cave entrance and 0.5 mile (0.8 km) or 2,600 feet (792 m) from any road or parking lot.

Backcountry camping groups are limited to 10 people. Larger groups must hike and camp at least 0.25 mile (0.4 km) apart (in separate areas).

Permit holder must be age 18 years or older.

Campfires are not permitted.

Maximum stay in the park's backcountry is seven consecutive nights.

Toilet paper must be packed out.

Vehicle or RV camping is prohibited.

Camping is not allowed in any other area, including along any roads, in any parking lot or trailhead.

No open fires in the park, small cooking stoves are permitted.
Pets are not permitted in the backcountry.
Do not disturb or collect any plants, animals, minerals, or cultural artifacts.
Mountain bikes and motorized vehicles are prohibited on all park trails.
Drones are prohibited.
Horses and pack animals are only permitted on the Guadalupe Ridge Trail from the Walnut Canyon Desert Drive to the park's west boundary. Advance arrangements are required.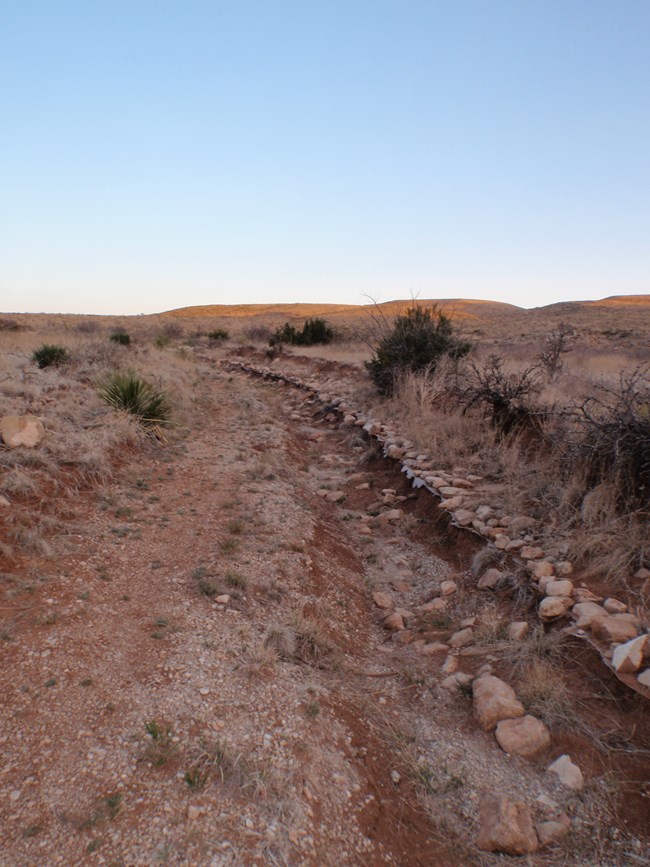 Services and Facilities
Available at the park's visitor center:
Gift shop

Bookstore

Restrooms

Water bottle filling stations

Restaurant offering hot and cold meals

A short orientation film relating to the park

Exhibits on the park's natural and cultural resources
Services and facilities are also available at the GRT's terminus in White's City, New Mexico including an RV and tent campground, small grocery store and deli, restaurant, gift shop, lodging, shower and laundry facilities. For more information on services available in White's City, please call 575-785-2291.

Additionally, if you would like a bonus subterranean adventure, the paved underground trail system in Carlsbad Cavern is 2.5 miles (4 km) long and was designated a National Recreation Trail in 1983. You can enjoy the trails on your own which includes the Natural Entrance Trail (1.25 miles / 2 km) and Big Room Trail (1.25 miles / 2 km). Entry fees apply to enter the cavern.

For trails in the desert, please visit our Desert Hiking Trails page.

Last updated: December 21, 2022