Horse Sense and Survival Tours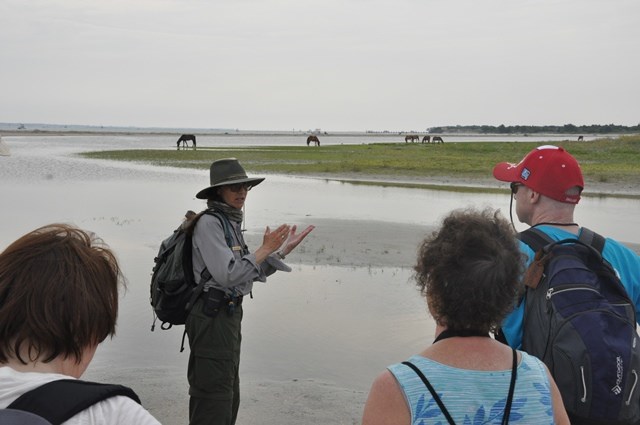 Join a Park Ranger on a trip to Shackleford Banks to get an in-depth look at wild horse behaviors and the management practices needed to maintain a wild horse herd.
For Program Information
Call Cape Lookout National Seashore at 252-728-2250 ext. "0". We're happy to give you more complete driving directions, a park site bulletin with a map, and answers to your questions.
2023 dates
Month
Day
Date
Departure
location
Meet
time
Ferry Depart
time
Program
end
June
Sat
17
Harkers Island
9:15 am
9:45 am
1:00 pm
July
Sat
15
Harkers Island
7:45 am
8:15 am
11:30 am
August
Sat
12
Harkers Island
7:45 am
8:15 am
11:30 am
Sept
Sat
23
Harkers Island
7:45 am
8:15 am
11:30 am
Oct
Sat
14
Harkers Island
9:45 am
10:15 am
1:30 pm
Nov
Sat
4
Beaufort
8:30 am
9:00 am
12:00 pm (noon)
Reserve Your Place!
Reservations are required for this trip. Making a reservation requires two steps:
Contact the Harkers Island Visitor Center at 252-728-2250 ext. "0". We will send you essential trip information, answer your questions and take your reservation for the program. There is no charge for the walking tour. There is a charge for the ferry, see below for ferry ticket prices.
Contact

Island Express Ferry Services

to

reserve your space on the ferry.
Horse Sense and Survivals Tours have TWO departure locations. Double check which departure location your tour is using! It will be either from the Harkers Island Visitor Center, (GPS: 1800 Island Rd, Harkers Island, NC 28531) or the Beaufort Visitor Information Center located in the Beaufort Town Hall (701 Front St., Beaufort, NC 28516).
On Harkers Island, parking in the Harkers Island Visitor Center lot is free.

In

Beaufort, from about Memorial Day to Labor Day, parking along Front Street and in the waterfront parking lots is

paid parking

. (Check the

town's parking page

for exact dates.) Watch for spot numbers at the rear of the parking space and pay accordingly in kiosks on the sidewalks. Free parking is available in marked spaces on side streets.

Difficulty
This tour is considered moderately difficult.

The horses roam far and wide so we'll be walking to find them. We will be climbing dune hills, walking in loose sand, ducking through shrubs, and winding through prickly needlerush. Trips from Harkers Island will likely include wading in salt water to our knees and slogging through heavy black marsh mud to our ankles. We will walk at a moderate pace and then stand or sit to watch the horses.

In summer, be prepared for very high heat indexes--dress in loose fitting clothes and bring extra water. In autumn if it's cold we'll do our best not to get wet. There are ticks on the island, so take normal precautions including a tick check when you get home.
Amenities
Amenities on Shackleford Banks are few and not always handy, be prepared. Visitors arriving from Harkers Island will find no toilets but many bushes on Shackleford Banks. The first steps off and to the boat may include wading.

Visitors arriving from Beaufort may use the dock's vertical ladder to unload or load the boat. They may also pass by the toilets (without washing facilities) on our walk.
Weather
Bad weather will only stop us if the ferry does not run. To check ferry status, you may call the ferry after 7 am on the day of the trip.
Footwear
Closed toe walking shoes are necessary to protect you feet from cacti, sand spurs and oysters. Remember, there is the possibility of wading through salt water and slogging through ankle-deep marsh mud. We advise bringing a change of socks and shoes for the drive home.
Suggested items to bring:
water and other drinks in a reclosable bottle
lunch & snacks
sturdy close-toed walking shoes that can get wet, salty & dirty and will protect from cactus, sand spurs & sharp oyster shells while wading (please no flip-flops)
hat
sunscreen
bug repellent (and do a tick check afterwards)
rain jacket (also for spray in the boat)
binoculars
camera with zoom (telephoto) lens
a change of socks & shoes for the drive home
daypack/shoulder bag to carry these items (hard sided coolers are too heavy and cumbersome to carry)
Last updated: August 3, 2023