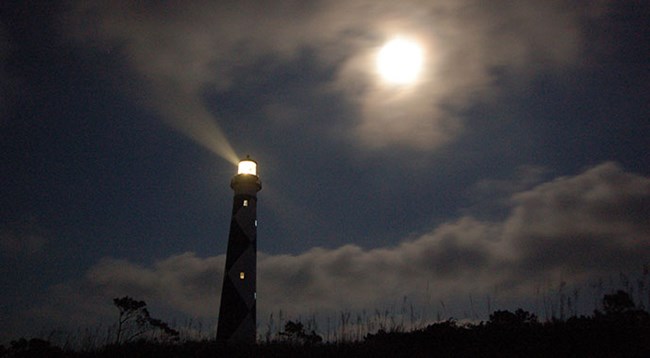 This special program is offered on select dates near the full moon during the months of June, July, August, September and October. Bring your own flashlight and experience the island and the lighthouse as the keepers did: in the dark of night. Hear stories of the light keepers, watch the sunset and moon and stars come out on the unlit beaches of Cape Lookout National Seashore. Discover a different side to your favorite beach!
The cost of the program is $28 per person (price includes ferry fee) and is non-refundable (weather dependent).
Reservations are required.
There will be only one ferry trip on each date for Evening at the Cape.
The ferry will depart Harkers Island at 7:30 pm and return at about 10:00 pm for the June through August programs. Departure and return times will be adjusted for the fall programs as the sunset will occur earlier.
Children joining the climb must be at least 44-inches tall and able to climb the steps on their own. Children 12 years of age and younger must be accompanied by an adult (16 or older). Footwear is required as well.
Learn more about climbing the lighthouse...
Reservations for the evening programs will be accepted on Monday of the week prior to each month's dates.
All reservations must be made online
through Recreation.gov
.
You will need to create a profile (or account) on this website before you can complete your reservation.