Storm Watch

Storms--whether a coastal storm, nor'easter, tropical storm, or hurricane--are a part of living along the coast. Storms can affect the park with overwash, erosion and closures. The park will issue news releases on the storm(s) and any possible impacts to the islands and park operations.
Before, during, and after a storm, please monitor this page as well as our social media account on
Facebook
and
Twitter
, and our
Current Conditions
page for information about park conditions.
Coastal Storm -- November 16 - 17, 2019
Aftermath of the storm:
Great Island Cabin Camp, South Core Banks -- Cabins 4, 5, 21, 22, 23 and 24 have closed for the remainder of the season due to ocean overwash flooding damage. All other cabins in the camp remain open until November 30, 2019 (end of season).

South Core Banks -- island remains OPEN to vehicles through November 30, 2019 (end of season)

North Core Banks -- flowing water from ocean overwash reopened some of the previously closed cuts through the island created by Hurricane Dorian. In addition, sand carried in by ocean overwash has closed some cuts. Island remains OPEN to vehicles through November 30, 2019 (end of season).

Portsmouth Village -- the village experienced flooding.
__________________________________________________________________________________________________________
A slow moving, strong, and potentially life-threatening coastal storm will impact Eastern NC through this weekend into early next week.

We are expecting moderate to significant impacts.

Period of greatest impact: Saturday through Sunday.

Coastal Flooding:

Potential for life threatening inundation 2 to 4 feet above ground level, with locally higher amounts possible, for ocean side Outer Banks Dare County and areas adjacent to the Southern Pamlico Sound and Core Sound (see maps for details).

Minor coastal flooding up to 2 feet above ground for areas adjacent to the Southern Alligator River and Pamlico and Pungo Rivers.

High surf, beach erosion and ocean over wash expected for the beaches north of Cape Lookout.

Persistent strong North to Northeast winds with gusts up to 60-70 mph.

Storm force winds and dangerous seas over the coastal waters, sounds and rivers.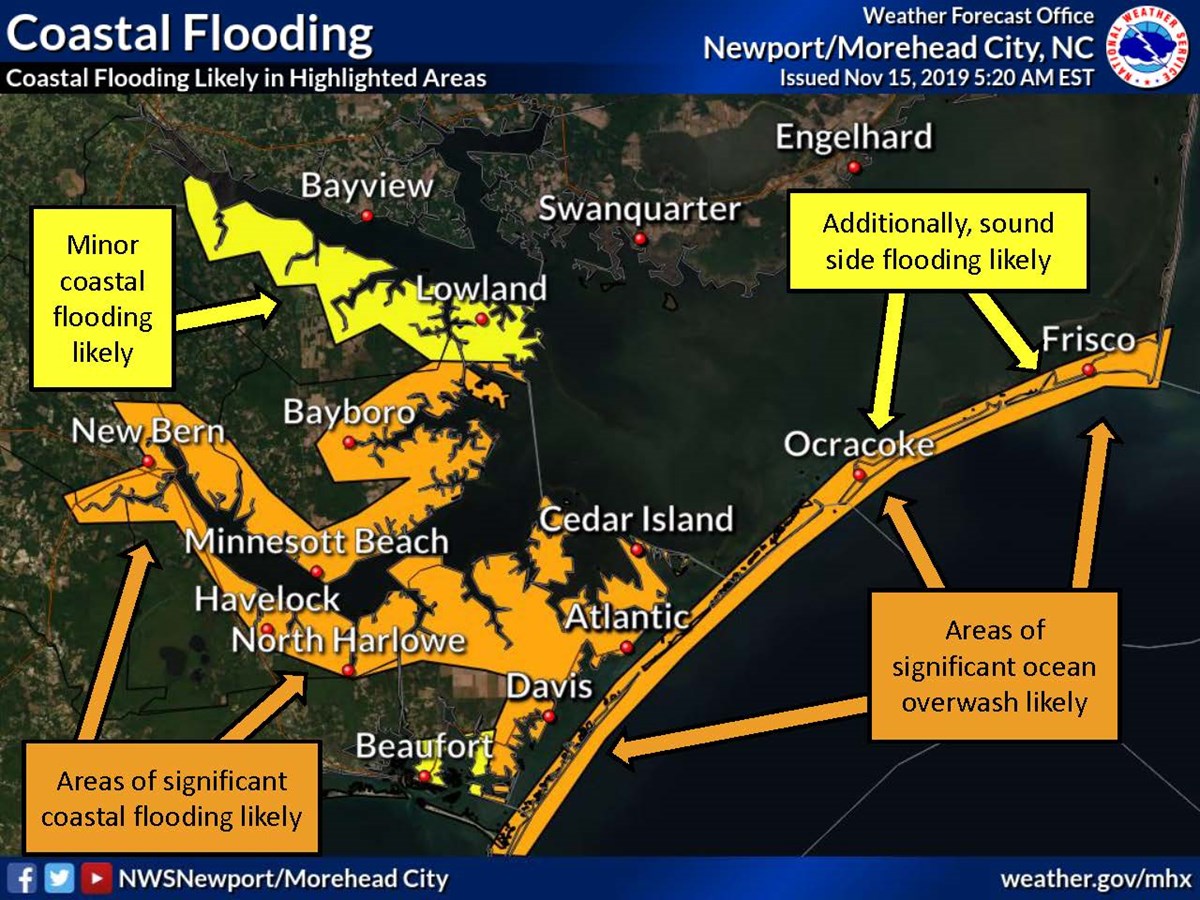 Hurricane Dorian
North Core Banks, including Long Point and Portsmouth Village, is now open for private boat access.
Vehicle ferry service to North Core Banks (Portsmouth Island) has also reopened. For more information on fees and schedules, contact Morris Marina at: 252-225-4261, or via the web: portsmouthislandfishing.com.
Due to the new inlets that have formed across the natural barrier island, many of which are only passable at low tide, there is only about 10 miles of accessible beach from an area called Chadwick Cut to the south of the ferry drop off to Swash Inlet at Ramp 9.

UPDATE: Chadwick Cut has closed -- beach open all the way to Old Drum Inlet to the south of the cabins. Swash Inlet is still impassable.
Long Point Cabin area is closed to the public for the remainder of 2019; Regularly expected island amenities such as ice, fuel, water, bath house, restrooms, dump station and air refill station are not available until further notice.
Visitors seeking long-term parking for vehicles on North Core Banks should contact the park for parking location, fees, and off road vehicle certification at: 252-728-2250 x8897.
Portsmouth Village is closed for the remainder of 2019.
North Core, South Core, and Shackleford Banks are open for day-use and camping.
South Core Banks is open to all visitors for beach driving and vehicle camping. Check with the ferry services out of Davis, NC for details on vehicle transportation.
Park Visitor Centers in Beaufort, on Harkers Island and at the Cape Lookout Lighthouse area, have reopened with normal operational hours
NOTE: An abundance of storm debris, including nails and other sharp objects, remains on the beaches. Be careful while shelling or surf fishing. Sturdy footwear is highly recommended during this time.
Water has been restored to South Core and Shackleford Banks. All restrooms, water fill stations, rinse-off showers, etc. on these islands are functional.
The Keepers' Quarters Museum on South Core Banks is open. Hours of operation: 9:30 am to 4:30 pm.
Great Island Cabin Camp is open. Office hours: 8:00 am to 3:00 pm
We will keep our Facebook page updated, as well as our webpage.
Before & After Satellite Imagery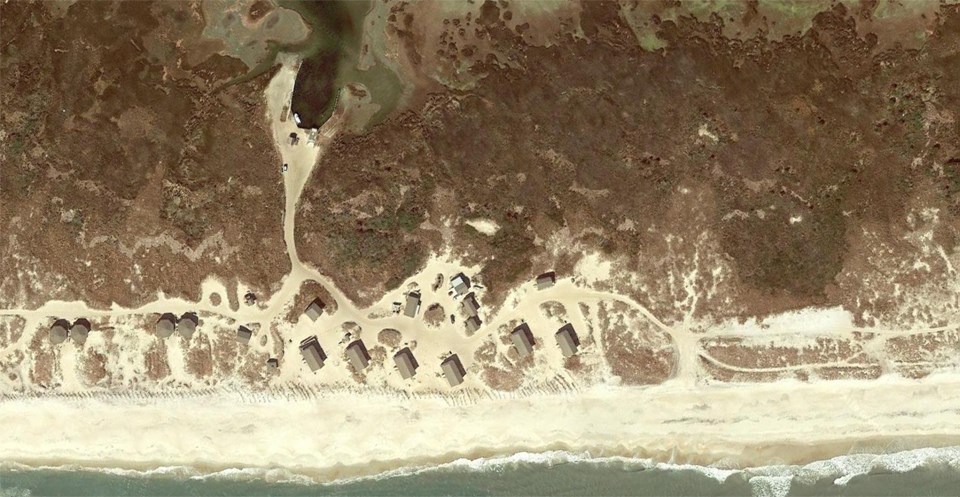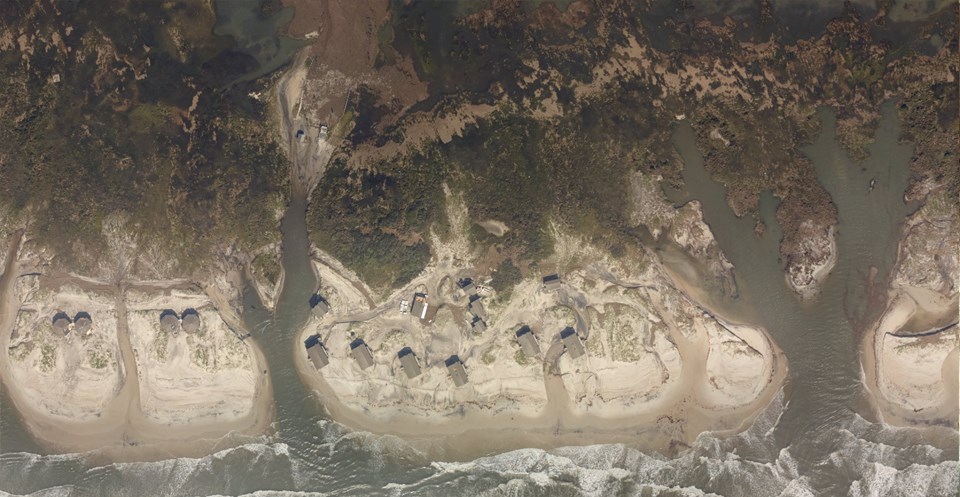 Long Point Cabins Before
/ Image Credit: Google Maps
Long Point Cabins After
/ Image Credit: NOAA
---
---
Wild Cows on North Core Banks
Images are of when we first spotted the one cow in September, a photo gallery of images taken of the roundup efforts on November 21 & 22 (including one of all three cows dashing away after being released on their home range) and finally a video of the ferry as it leaves North Core Banks for the mainland carrying the cows and the equipment.
---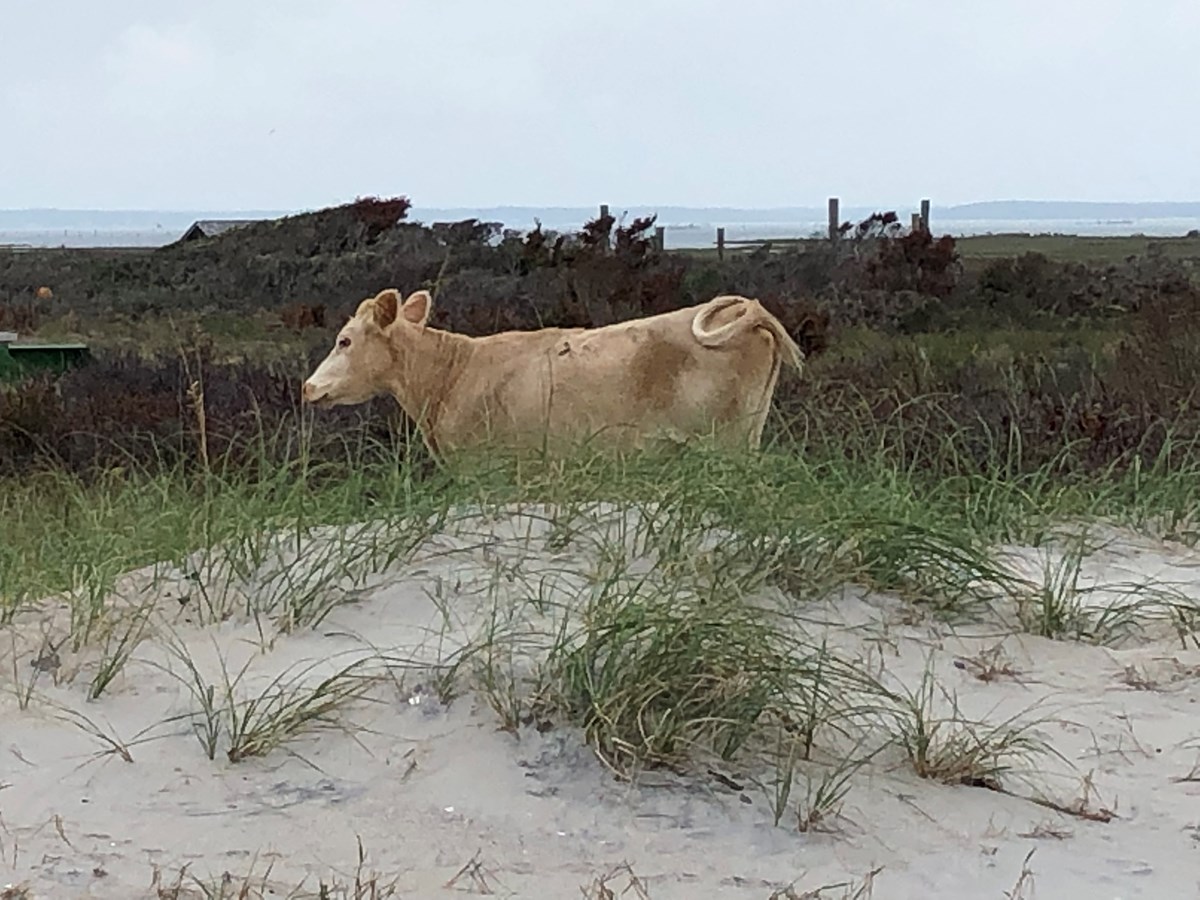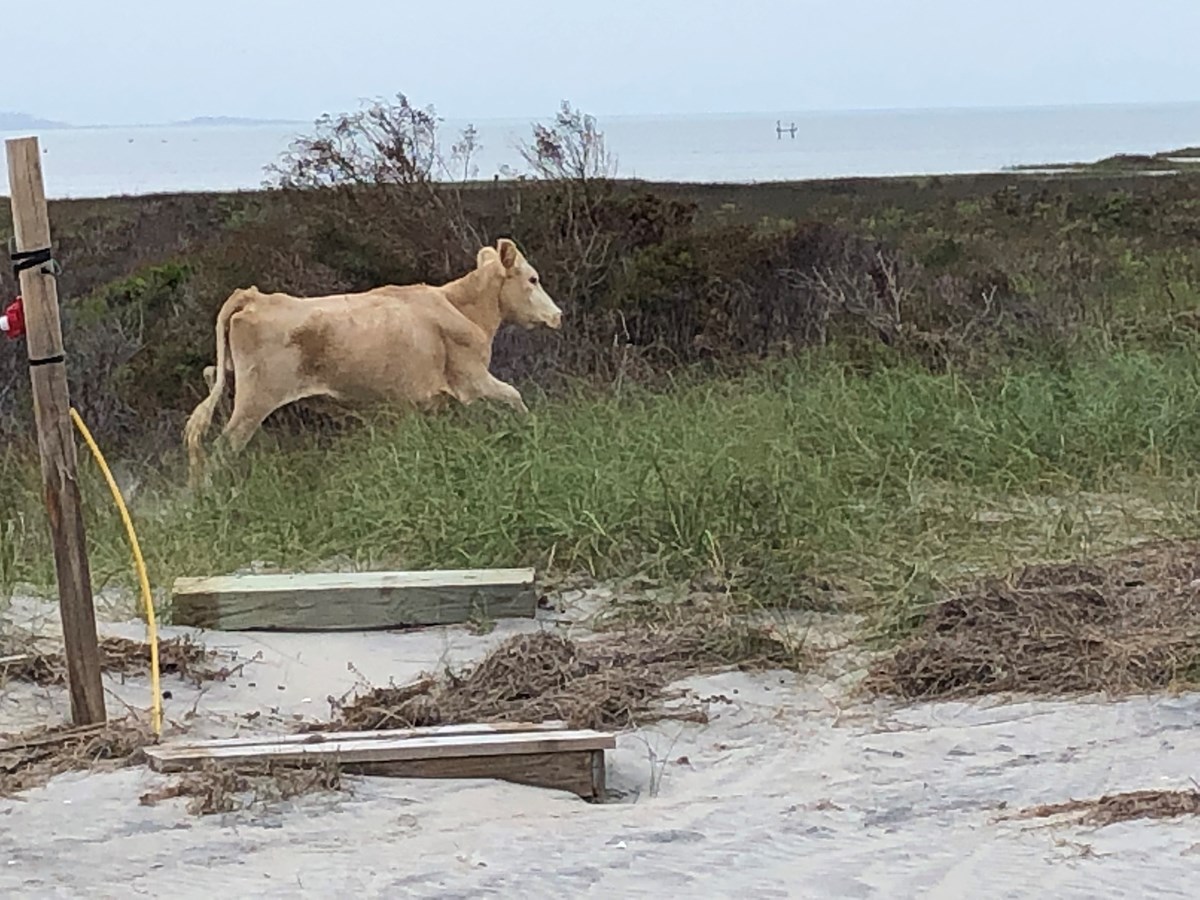 Transcript
No Narration -- only ambient sounds in video
Visit our keyboard shortcuts docs for details
Duration:

19 seconds
The 3 wild cows that were swept from their home range by the storm surge during Hurricane Dorian over to North Core Banks in Cape Lookout National Seashore, were rounded up and returned by ferry to the mainland to be reunited with their herd.
Last updated: November 22, 2019