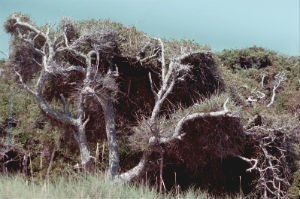 In the area near Portsmouth Village at Cape Lookout National Seashore, much of the land is awash at high tide; only a few areas support significant amounts vegetation.
However, scattered groves of trees can be found on other parts of Core Banks and particularly at Guthries Hammock. The Cape Lookout Bight area and Shackleford Banks have large dunes which can protect vegetation from the damages of the ocean's salt spray. Thanks partially to these dunes, Shackleford Banks boasts the most extensive maritime forest in the park.
Vines are abundant in the maritime forest and are at war with the trees. The changing geography of the island produces the strange and beautiful "ghost forests" on the ocean side of the groves as trees that are killed by advancing sand and salt spray leave their sun-bleached skeletons protruding from the sand.