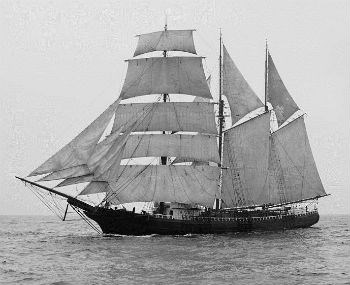 On December 5, 1902, the barkentine Olive Thurlow became stranded in Cape Lookout Bight, two miles northeast of the Cape Lookout Life-Saving Station. True to their profession, the station's surfmen responded to the Thurlow's distress signal, fighting wind and waves to rescue to the stranded crew.
The 577-ton barkentine Olive Thurlow, while on her way to New York City with a load of yellow pine lumber from Charleston, South Carolina, encountered a strong north gale as they came abreast of Bodie Island. Captain Jerry O. Hayes decided to take the wheel himself, and instead of fighting the wind, he would come about and seek a safe harbor in Cape Lookout Bight.
While trying to make an adjustment to the tiller rope he caught his foot between the tiller and the quadrant, breaking his leg just above the ankle. They reached the cape on December 3rd without further mishap, and at 8 p.m. dropped anchor about 2 1/2 miles northeast of the station.