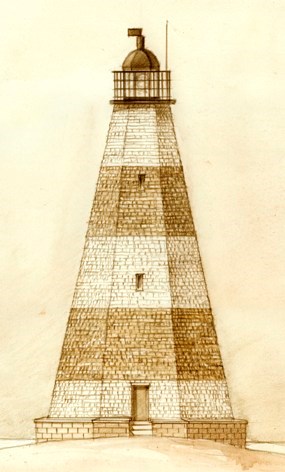 1804
The United States Congress authorizes the construction of a lighthouse "… on or near the pitch of Cape Lookout."
1812
The first Cape Lookout Lighthouse is completed at a cost of $20,678.54.
It is a wood frame octagonal tower with a brick stairwell. The boarded exterior is shingled and painted with red and white horizontal stripes. Its mechanism consists of thirteen lamps with 21-inch parabolic reflectors. The focal plane of the light is 96 feet above ground and 104 feet above sea level.
President James Madison appoints James Fulford as the first keeper at a salary of $300 a year.
1851
Complaints from seafarers are making it evident that a taller and more stable lighthouse is needed. Though attempts are made to renovate the first Cape Lookout Lighthouse, eventually the decision would be made to replace the outmoded structure.
1852
The U.S. Lighthouse Board is created and assumes control of all aids to navigation.
1856
Over the years, the effectiveness of the lamp and parabolic reflector system is questioned. The Lighthouse Board finally gets around to ordering a first-order Fresnel lens in the lighthouse. The Board also takes action to have the tower rebuilt. However, evidence suggests that the old lighting system continues to be in use until the completion of the new tower.
1857
Congress appropriates $45,000 to build a new lighthouse at Cape Lookout.