Jobs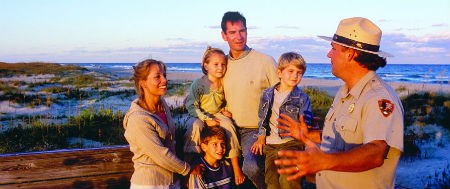 The National Park Service is dedicated to preserving our nation's natural and cultural history by protecting these resources and providing visitors with opportunities to experience and enjoy their National Parks.
Temporary and Seasonal Positions
The National Park Service hires approximately 10,000 seasonal employees each year. These positions are temporary and generally last 3 to 8 months depending on the needs of the individual park. Most summer seasonal positions are announced in December or January, although some announcements may open earlier. View the available jobs at USAJobs.gov.
Types of positions:
Interpretation Rangers
Park Guides
Law Enforcement Rangers
Visitor Use Assistants
Biological Technicians
Laborers
Maintenance Workers
Administration
For detailed descriptions of these positions, please view our Positions and Descriptions guide (pdf, 180 Kb)
Permanent and Term Positions
Permanent and term jobs offer a complete benefits package, including health and life insurance and an outstanding retirement program. Some permanent jobs are year-round positions while others are subject-to-furlough. Term positions last from one to four years. Occasionally, permanent or term positions with the National Park Service become vacant. These jobs are often highly competitive. All open positions are announced on USAJobs.gov.
Student Internships
The majority of intern positions are filled through a partnership with the Student Conservation Association (SCA).
Students and recent graduates (within 2 years) can refer the information in this Pathways Program flyer (pdf, 1113 Kb).
Additional intern opportunities may be available. Please visit the Internships webpage for more information.
Last updated: February 6, 2018