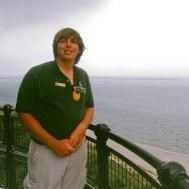 Tony Whitehead
Interpretation and Resource Management Intern, Summer 2011

My name is Tony Whitehead, and I have spent my summer as an Interpretation and Resource Management Intern at Cape Lookout National Seashore this summer.
When I arrived at the visitor center on my very first day, I didn't know anyone, I didn't know anything about the area, and I really didn't know much about the park. Everyone was very welcoming and I was made to feel like a part of the team right away. I got great training and soon I knew enough about the lighthouse, the history of the area, and the methods and philosophy of interpretation to be effective as an interpreter.
I was first stationed at the top of the lighthouse, where I spent my time overlooking the whole island, watching people's faces light up as they stepped out to see the amazing view and talking to them about what they saw.
I am working on a Bachelor's degree in Ecology, and I was given the opportunity to get some field experience on Shackleford, where I roved the beach looking for sea turtle tracks and then I identified, protected, and marked the nest. I also was able to do the horse census, which means that I identified any horses I saw and recorded their location, behaviors, and which other horses were in their group.
After work, I would go out on the maritime forest trail that ran behind the visitor center. I enjoyed the uniqueness of the forest, the beautiful scenery, and the wildlife. I fell in love with the trail and knew it had a lot more to offer visitors, so I asked for, and was granted, permission to start a regularly scheduled guided program through the forest. I did the research on what I didn't know, refreshed myself on what I did, and with a little help I organized the program, which has been a great success! Even when I'm gone, there will be three tours every Saturday during the summer.
The staff here has done everything in their power to help me learn to be a better teacher, researcher, and interpreter. They were very accommodating in helping me take on projects and jobs that I was most interested in and would be most useful to my major. I did this internship for the experience in my field. I enjoyed it because of the feeling I get when I look out from the top of the lighthouse, when I uncover a newly laid turtle nest, when I encounter the wildness of the horses on Shackleford, and especially when I help someone understand the importance of this beautiful place.
I am so grateful for the opportunity to experience this Park as intimately as I have, and I will never forget it.