Tour Route - Oregon
Below the map are driving directions to follow the Auto Tour Route for the California National Historic Trail north to Oregon, from California.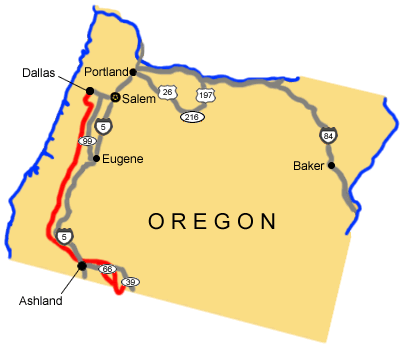 Applegate Route:
1. Take State Route 39 north to State Route 66.
2. Turn west onto State Route 66 at Klamath Falls.
3. Take State Route 66 west to Interstate 5.
4. Turn onto I-5 north at Ashland.
5. Take I-5 north to State Route 99 north at Eugene.
6. State Route 99 becomes State Route 99W.
7. Turn west onto Clow Corner Rd. and follow to Dallas and the trail's end.
Total original route miles in Oregon (including alternate routes): 424
Last updated: April 30, 2018