Ash Hollow State Park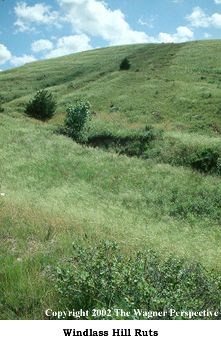 Ash Hollow Complex/Windlass Hill - Lewellen, Nebraska
After negotiating the climb up California Hill, the emigrants traveled 18 miles across the high tableland between the South and North Platte rivers before descending Windlass Hill into the North Platte Valley through Ash Hollow. Ash Hollow is a natural landmark that served as the gateway to the North Platte Valley.
It was a favorite campsite for emigrants because it offered wood, pure water, and grass for the stock. Wagons descended the 25-degree slope of Windlass Hill for about 300 feet; subsequent erosion of the tracks worn by rough-locking the wheels has left at least five scars of trail ruts run down its side. From the top of the hill, trail ruts can be followed south until they disappear into a wheat field at the top of the plateau.
The source of the name is unknown. Emigrants never referred to it as Windlass Hill. Howard Stansbury passed through Ash Hollow on July 3, 1852 and commented, "Here we were obliged, from the steepness of the road, to let the wagons down by ropes. . . . The bottom of Ash Creek is tolerably well wooded, principally with ash and some dwarf cedars . . . traces of the great tide of emigration . . . plainly visible in remains of camp fires, in blazed trees covered with innumerable names . . . total absence of all herbage."
The complex includes Ash Hollow Spring, Rachel Pattison's grave, Windlass Hill, an emigrant campsite, and good drinking water. A visitor center with interpretive exhibits is operated at Ash Hollow State Historical Park.
Ash Hollow State Historical Park
P.O. Box A
Lewellen, NE 69147
308-778-5651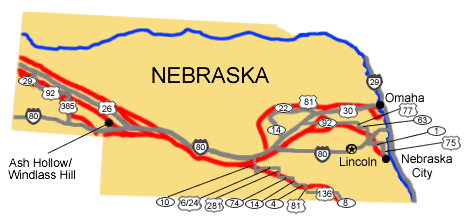 Last updated: February 12, 2019