Donner and Reed Wagon Train Incident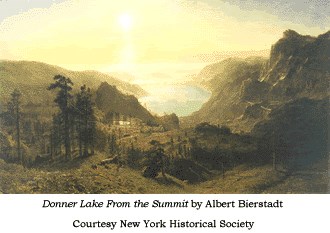 Paiute Sarah Winnemucca recalled that her tribe would have helped the Donner-Reed party of 1846, "...only my people were afraid of them."
The California Trail was not a single trail. Although the Oregon Trail provided an established route from Missouri to Fort Bridger, the California Trail between Utah and the Sierra Nevada split into different routes.
In 1846, one Lansford W. Hastings claimed to have found a new, timesaving route to California. Hastings then tried to persuade settlers in Missouri to allow him to lead them to California. Known as the Hastings Cutoff, his route lay directly through the Great Salt Lake desert in Utah. Emigrants who had started their journey early in the spring of 1846 were reluctant to believe him, but late starters found his tale enticing. Several decided to trust his words and allowed themselves to be led by Hastings.
One of these groups was the Donner-Reed party. Led by George Donner, a 65-year-old farmer, and James Reed, a neighbor of Donner's, the Donner-Reed party consisted of 87 men, women and children. This group left Illinois on April 12, and pushed past Independence, Missouri on May 12. With this rather late start and 2,500 miles to go, the Donner-Reed party agreed to join Hastings' group of 80 wagons so that they could save 150-500 miles (Hastings was a little vague on this point).
The route Hastings led his followers on took more time than the popular routes would have taken, depleting supplies and livestock. By this point, the Donner-Reed party had fallen behind and had trouble locating Hastings' route, costing even more time. They reached the Humboldt River on September 26.
With an assortment of bad luck and problems, the Donner-Reed party finally reached Truckee Lake below the crest of the Sierra Nevada in October. By now exhausted and low on provisions, the group was met with the first serious snowfall of the winter. They became trapped there for the next four months.
Starvation and desperation soon followed. When all the animals had been killed by mid-December, the party was forced to eat rawhide to survive. Some members left on a self-rescue mission and were able to reach help but not before resorting to cannibalism to survive. The others back in the camp also ate the deceased to stay alive.
Of the 87 who began the trek with the Donner-Reed party, 40 died that winter from starvation-related causes. The survivors were not rescued until the spring of 1847.
---
More California Trail Stories:
Last updated: February 12, 2019