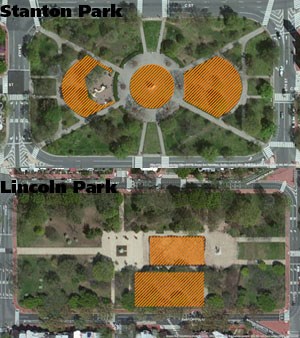 What We're Doing
The National Park Service (NPS) is improving grassy areas at
Lincoln
and
Stanton Parks
by improving soil health and re-seeding with a new seed blend selected by an NPS turf specialist. The result will be durable turf that is more tolerant of heavy use.
The center and south center panels of Lincoln Park and the center and eastern panels of Stanton Park were restored during Phase 1 of this project.
How You Can Help
We can keep the park fully open more of the time if the grass stays healthy. If you to treat the new turf with respect, these improvements will last a long time.

1. Leash your pet. You'll keep others safe, and protect the grass. Also, it's the law.
2. Observe closures. Give new grass a chance to grow strong. When the grass is ready to be played on, we'll take the fence down.
3. Stay off wet grass. If the ground is sloppy and wet, walking on it can compact the soil and damage the roots. If the grass is torn up, then we have to start another cycle of reseeding.