Folger Park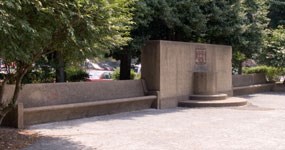 Located in the Southeast quadrant of Washington, D.C., Folger Park is one of the largest parks in the Capitol Hill area. In 1885, the park was memorialized and named after Charles J. Folger, Secretary of the Treasury in the administration of Chester A. Arthur. Folger had died while still in office in 1884 .
The land that became Folger Park was acquired in 1791 by the Federal Government from Daniel Carroll of Duddington to be used as street rights-of-way. Surveyor Andrew Ellicott modified Pierre L'Enfant's 1791 "Historic Plan of Washington, District of Columbia" and reserved it as open space.
In 1871, nuns established Providence Hospital in a house on the square south of the park site, at 2nd and D Streets. Folger Park for years was referred to as The Square North of Providence Hospital.
Folger Park is nestled in a quiet residential area, and can be enjoyed by nature lovers and city slickers alike.
The park contains much of the city's rich architectural history. A cast iron fence was added in 1881 in the form of fasces, and three years later the planting of 1000 ornamental trees gave the site beautiful scenery. Paved asphalt walkways replaced old gravel in the early 1900's. You can have lunch on one of the unique "fountain benches" fashioned after the 1935 "Drinking Fountain and Bench" plan.
Last updated: April 10, 2015