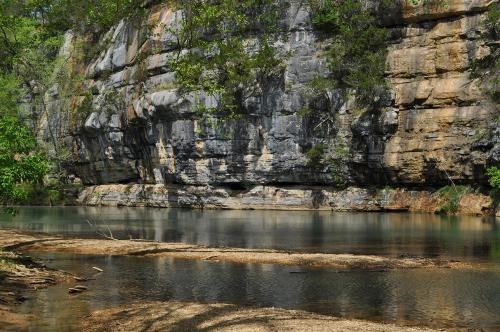 The Buffalo National River was created by congress in 1972, for "the purposes of conserving and interpreting an area containing unique scenic and scientific features, and preserving as a free-flowing stream an important segment of the Buffalo River." It is this mandate that drives our preservation and management efforts.
The park contains only 11% of the Buffalo River's watershed. Deforestation and land use modifications outside park boundaries threatens the river. Although the river is to be preserved for the use of future generations and the National Park Service is responsible for that task, only community wide support for conservation efforts in the watershed can reach that goal. The scientific features of the enabling legislation become even more important as development continues to occur in neighboring watersheds.
The future outlook for the quality of the river is high as the National Park Service and state and local governments strive to create common ground, and forge a universal goal for the preservation of one of the nation's most unique aquatic resources.
The natural resources management strategies employed at the Buffalo National River must be as dynamic and diverse as the resource itself. Management strategies are ever evolving, as the scientific process discovers new and better ways to preserve our nation's natural resources.