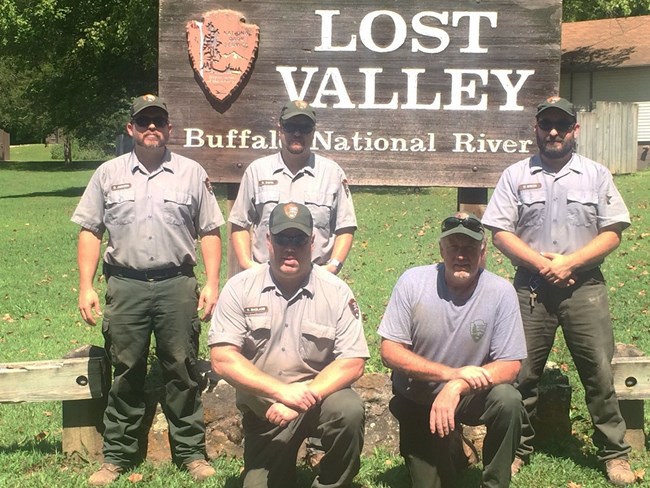 Lost Valley Reopens for Labor Day Hikers
Damage from heavy June rains forced the closure of Lost Valley, one of the most popular and heavily-used hiking trails at Buffalo National River. Temporary repairs to the road and trails began August 3.
While repairs are not fully complete, the trail is sufficiently stabilized for visitor safety and park officials are re-opening the area in time for the Labor Day holiday weekend on Friday, September 4th. Work to complete the repairs will resume after the holiday weekend.
In the meantime, the uppermost section of trail on the return loop will remain closed for safety.
Hikers should be aware that trail crews will be working in the area again next week and are urged to be cautious around trail materials (soil and gravel piles) and equipment. "Restoration of service at Lost Valley took a top priority with park management and we are very pleased and proud of the maintenance crew who made this Labor Day opening possible," said park superintendent Kevin G. Cheri.
With the assistance of the Federal Highway Administration, Buffalo National River staff is taking a broader look at the Lost Valley area with an eye towards long-term sustainable use which may include the options for modifications to the road, increasing accessibility, and redesigning trail routes and day use facilities. As clearly indicated by the repeated floods over the past few years, there is a compelling need to consider changes that will establish the types of infrastructure that can either withstand flooding or be relocated to avoid it.