American Indian Realism
November 1 - December 31, 2009
Traveling Exhibit - Oklahoma Museum Association
Drawn from the Photographic Archives of the Western History Collections at the University of Oklahoma, this exhibition features modern prints from vintage glass plate negatives. The photographs reflect the dignity maintained by Native Americans in spite of upheaval caused by the relocation of tribes.
Photographers focused on people who still wore traditional dress and lived in traditional homes as a means of documenting a lifestyle that had been irrevocably altered.
The exhibit includes 30 large framed wall-hanging photographs and brochures. Sponsored by the Oklahoma Museum Association.
Free and open to the public daily from November 1 to December 31 (SITE CLOSED November 26 and December 25), 2009, 9:00 am to 5:00 pm, at Brown v. Board of Education National Historic Site, 1515 SE Monroe Street, Topeka, Kansas, 66612.
For more information, call the Brown Foundation at (785) 235-3939 or send an email by clicking here.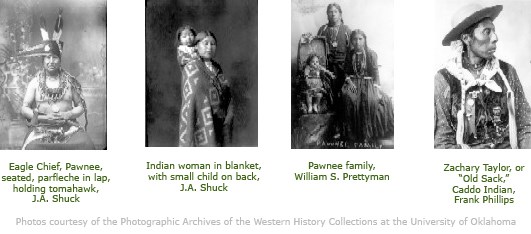 Last updated: April 10, 2015