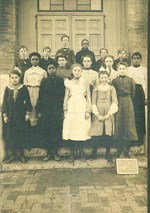 by Thom Rosenblum, National Park Service Historian [1]
As the First World War entered its final year, a bill to extend the authority to an ever widening circle of communities throughout the State of Kansas to segregate their public schools snaked its way through the State Legislature. Seeking to expand upon an 1879 law permitting school boards in cities of the first class with populations of over 15,000 to create a dual elementary school system, the state lawmakers were now considering granting the same discretionary powers to towns with populations as few as 2,000.
With school segregation threatening to spill out of its legally defined space, local chapters of the National Association for the Advancement of Colored People and others arrayed themselves against the proposed law. Nathaniel Sawyer, a Topeka teacher and member of the local branch of the NAACP, laid out the case of the African American community before Governor Henry Allen. Presaging the argument that lay at the heart of Brown v. Board of Education more than thirty years later, Sawyer noted "separation and segregation tends to lower the segregated class both in its own estimation and that of its fellows" and inevitably "the American colored man is robbed of his self respect by a treatment in schools and public places which accentuates complexion differences and masses all into a single body without regard to personal worth or character." [2] The bill, a forthright expression of racist dogma, ultimately failed.
Segregation was not a peculiarly southern institution and the position of Topeka's African American parents and children was particularly ambiguous. Although state law forbid segregation based on race in most aspects of public life, African American parents desiring their children receive a sound education depended on something often undependable – the benevolence of the white community.