Pets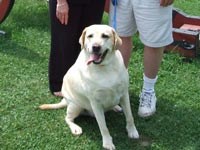 PETS at the Park


"Woof!"
"Woof, woof, bark!"
"Sniff, sniff, squat."
"Bark, sniff, woof!"
Translations:

1) "YES!" in response to the question, "Are dogs allowed in the park?"

● In order to protect natural and cultural resources, pets are
required to stay on trails, roads and developed areas.

● While they are allowed in the park, only certified help
animals are allowed in park buildings.
2) "Please keep me safe!" A reminder from your canine companion to keep it in control and on a leash at all times during your visit. Dogs must be on a leash of 6 feet or less in length and their owners must be holding the other end. It's not only for your pet's protection but those of wildlife and farm animals.
3) "I can't flush!" Please be considerate of other visitors and clean up after your pet. Disposable waste pickup bags are available at a few park locations, with trash cans at or very near the bag dispensers.



4) "Oooh! New people to meet!" Your pet might want to meet others, but please remember that some people may be nervous around dogs.
Last updated: November 24, 2014